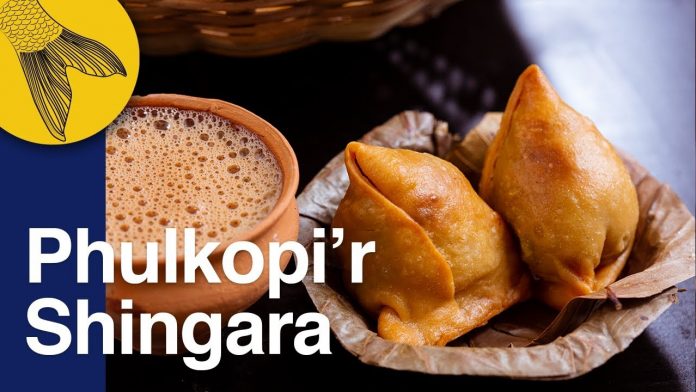 Eating phulkopi'r singara is best described as transcendental experience. Time stops still, and after you are done everything else in life seems to hold little attraction. Now that you have been warned, let us talk about the phulkopi'r shingara itself.
Phulkopi'r shingara means shingara made with cauliflowers. This means that to make this shingara you must use only the best seasonal cauliflowers. In Bengal cauliflowers are in season in winter. The shingara is ubiquitous all over Bengal, yet a proper shingara recipe is surprisingly hard to come by. All of the recipes we have found on the internet or cookbooks are "home-style" and don't taste like the spicy, jhaal (hot) and mildly sweet shingara sold in sweet shops and chop'er dokan (small fried goods shops). We figured out the recipe of the shingara filling around 2010 and since then have been guarding it like a secret. Today we are publishing it for everyone.
Another common problem with most of the shingara recipes on the internet is that the folding technique is not exactly right. The base of the singara actually has a double fold, creating four layers. It is quite difficult to get right, but we found help in YouTuber Selina Rehman's shingara video. Her video is the only video that shows this technique in a way that is easy to follow. It can be used to fold samosas as well.
This recipe is laborious, no doubt, but if you follow the measures to the T you will have made one of the best shingaras you have had.
—————————————–
Singara folding video by Selina Rehman:
—————————————–
__
RELATED VIDEOS
Kochuri'r Alu'r Torkari:
Kochuri:
Luchi:
Cha (tea):
Chhola'r dal:
Panch phoron:
Gorom moshla:
OUR KITCHEN TOOLS (affiliate links; we earn a small commission):
MUSIC
"Chowringhee" composed by Bemanan for Bong Eats
GET THE ALBUM
"Quorma-Kaliya-Polao" at
FIND US on Facebook, Instagram, Twitter, and Google Plus @bongeats