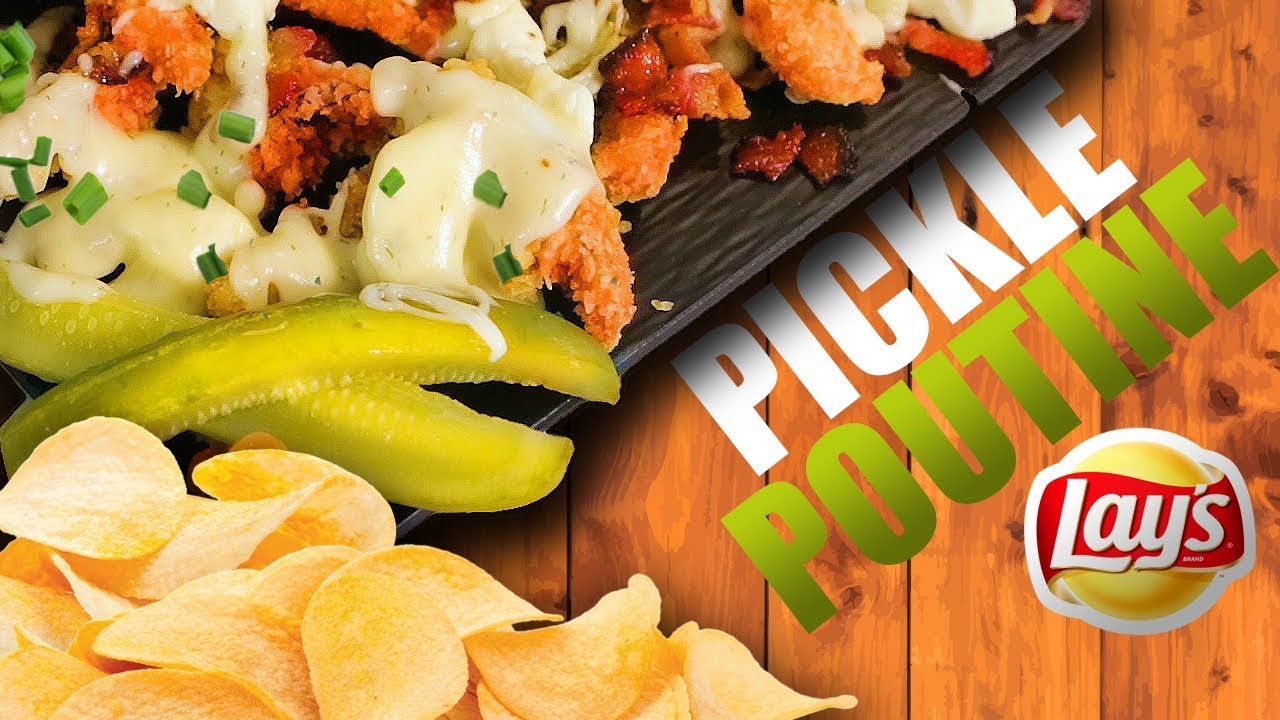 If you like pickles, and poutine, then you're REALLY going to like the PICKLE POUTINE!! Follow along as Gross Guy teaches you the ways of the pickle!
Ingredients
1/2 pack of bacon
1 Jar of pickle spears
1 Bag of pickled flavor chips
4 Eggs
2 Cups of flour
Vegetable oil for deep fry
1 Cup of cheese curds, or mozzarella cheese sticks (cut up)
3 Tbsp of butter or bacon grease
Tools
1 Chef knife
1 Cutting board
1 Frying pan
1 Small sauce pan
1 Large pot
3 Mixing bowls
Parchment paper
1 Wooden spoon
1 Small knife
Step 1
Cut bacon into bits and cook in a pan on medium heat for 10 to 15 minutes. Save some bacon grease for gravy.
Step 2
Cut pickle spears in half, and then remove the seeds. Chef tip*** Place on a paper towel to dry so the breading will stick.
Step 3
Crush or blend pickle chips to use as a coating for the pickle to add additional crunch.
Step 4
In 3 mixing bowls prepare egg-wash, flour, and chip crumbs. Dip pickles in egg wash, then coat in flour, and dip back into the egg-wash. Then cover with chips crumbs.
Step 5
Heat oil to 350 degrees Fahrenheit then begin to deep fry pickles for 3 to 5 minutes until crispy.
Step 6: Gravy
In a small sauce pan add 3 Tbsp of bacon grease or butter with 3 Tbsp of flour, and cook for 5 minutes. Add 1 cup of pickle juice to the roux and stir until a gravy forms. If it is too thick, then add more pickle juice to thin it out.
Step 7
In a bowl add deep fried pickles, cheese curds, bacon bits and gravy.
Check out Harley's Video Diaries –
We have a #YouTubeGaming Channel:
Follow the guys!
@harleyplays @princewallick @epicgrossguy @cooldan @itsmikesantos
LIKE/FAVORITE and SHARE for new meals every week!
Pickle Poutine – Epic Meal Time