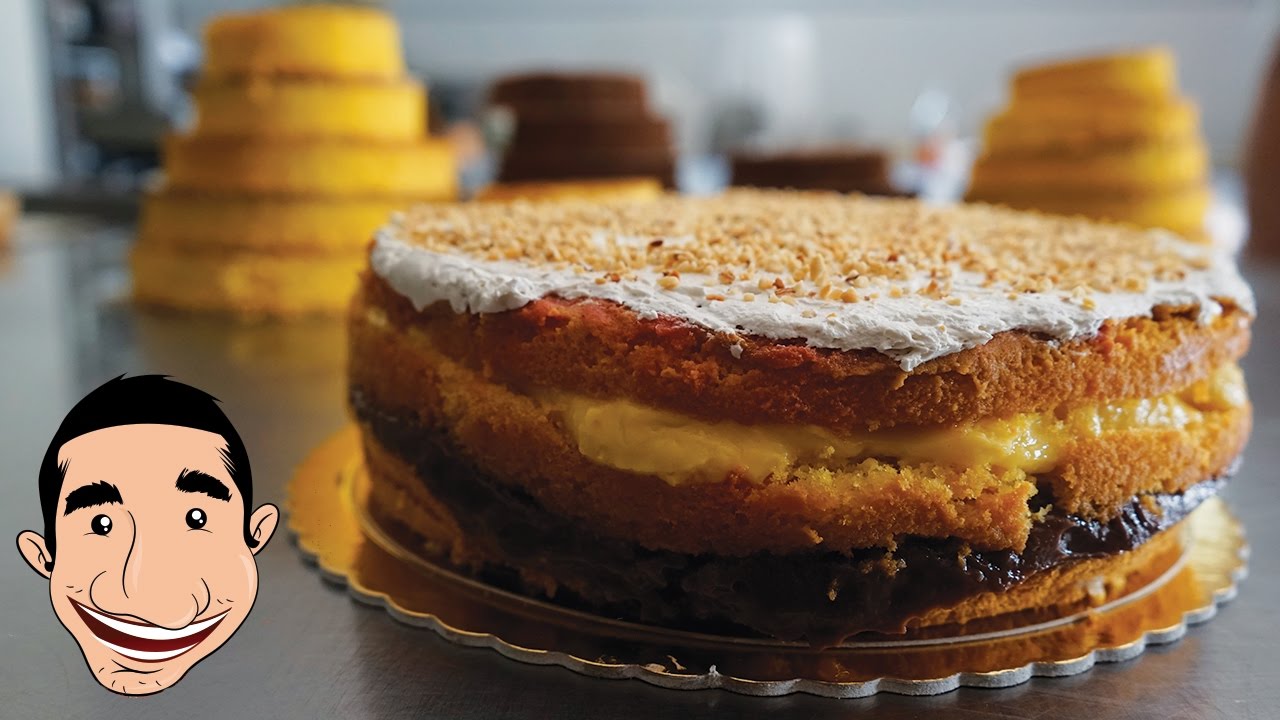 Layered sponge cake recipe known as Pizza Dolce from the region of Abruzzo. Originating back to 1923, this layered sponge cake has evolved over time to become one of the most sought after organic sponge cake desserts in Italy. This pizza cake is a sweet mix of sponge layered with almonds, vanilla and chocolate custard topped with coffee icing and super moist thanks to the mix of liquors on every layer. It's a flavour bomb and should be enjoyed responsibly.
————————————————————————-
SUBSCRIBE TO MY YOUTUBE CHANNEL (IT'S FREEEEEE 😉
Share it with your FOODIE friends on FACEBOOK
Get the recipe on my #FoodBlog
Check out my website for full recipes and to follow my blog:
Kg to cups converter: [US]
————————————————————————-
METHOD:
TO MAKE THE MOIST SPONGE CAKE:
1. Preheat your oven to 150 degrees celcius (302F).
2. Mix 5 x eggs with 150g white sugar using a kitchen aid or electric mixer.
3. Sift in 200g plain flour and fold through using a whisk.
4. Cover a large cake pan with butter and flour to prevent the cake from sticking to it once it is baking in the oven.
5. Pour the sponge cake mix into the pan and place this in the oven for around. 2 hours.
TO MAKE THE CUSTARD FILLING:
1. Place 400g sugar into a mixing bowl and add 100g of plain flour. Mix using your hands to get rid of any lumps.
2. Transfer this into a saucepan and add 1 litre of fresh milk and 8 egg yolks. Mix this together really well using a whisk.
3. Add a slice of lemon rind, then the cinnamon and vanilla.
4. Mix gently, then put your saucepan on the stove at a medium heat and mix continuously using a wooden spoon. It should take between 5-10 minutes to become thick and creamy.
5. Remove half of the cream from the saucepan and transfer it into a bowl to cool and set.
6. Add 100g (or more if you like!) of dark chocolate melting buds and mix well. Continue to mix until the cream has changed in colour and then remove it from the stove to cool and set also.
HOW TO MAKE THE ALMOND MIX:
1. This is a mix of almonds, sugar, pure vanilla, lemon and Amaretto (or Frangelico).
HOW TO MAKE THE MOCHA ICING:
1. Mix one kilo of room temperature organic butter with 100g of sugar and combine using an electric mixer or a kitchen aid.
2. Add 2 cups of espresso coffee and continue to mix through.
3. The icing should start to thicken up. Continue to mix until you are happy with the consistency.
Keep reading the recipe on my website
————————————————————————-
Subscribe to my YOUTUBE CHANNEL
LIKE ME ON FACEBOOK
FOLLOW ME ON INSTAGRAM @vincenzosplate
FOLLOWM ME ON GOOGLE+
FOLLOW ME ON LINKEDIN
FOLLOW ME ON TWITTER
————————————————————————-
Join my Italian Tour in July 2017 and discover the secret gems of Italy with me. Check out the itinerary and make sure you book asap (Only 10 spots available)
————————————————————————-
Also join this Incredible #FOODIE community: "ITALIAN STYLE FOOD REVOLUTION"
FOLLOW ON GOOGLE+
————————————————————————-
It would be awesome to watch my videos in different languages. Would you love to help me to translate my videos to your language?
Thank you very much
————————————————————————-
LIKE, SHARE and COMMENT on my videos please. It really means a lot to me.
————————————————————————-
MUSIC: Courtesy of Epidemic Sound
————————————————————————-
#Vincenzo Plate is a You Tube channel with a focus on cooking, determined to teach the world, one #videorecipe at a time that you don't need to be a professional #chef to impress friends, family and yourself with mouth-watering #ItalianFoodRecipes right out of your very own kitchen, whilst having a laugh (and a glass of vino!).
#layeredcakepatisserie #rainbowcake #rainbowlayercake #rainbowcakerecipe #layeredcake #3layercake #layeredpizzcake
layer cake, sponge cake, layer cake recipe
Re-Watch the Layered Sponge Cake video recipe: