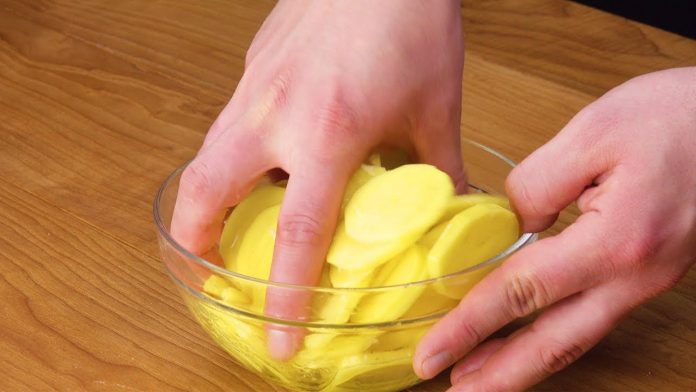 Here's how to make our tasty Potato & Bacon Quiche. Don't forget to subscribe to our channel first!
You'll need:
– 17.5 oz potatoes
– 3 tbsp olive oil
– salt and pepper
– 1 tbsp parmesan
– 5 eggs
– 6.7 fl oz milk
– 1 diced tomato
– 3.5 oz grated cheddar
– 3.5 oz diced, fried bacon
– 1.7 oz green onions, chopped up
Here's how:
1. First get to work on the potatoes. After washing and peeling them, cut the potatoes into thin slices. Mix the potato slices in a bowl with a marinade consisting of olive oil, salt, pepper, and parmesan.
2. Next, lay the potato slices out on the bottom of an ovenproof baking pan. Start by placing a potato slice in the center and surrounding it with other slices on top. Stand up potato slices around the edge of the pan, too; they should all be about the same height. Bake the potato slices at 320°F for 10 minutes in a preheated convection oven.
3. Now turn your attention to the filling. First, break the eggs into a bowl and carefully stir in the milk, tomato, cheddar, bacon, green onions, and seasoning. Next, spoon the mix on top of the potatoes and level it out.
4. To finish, bake the quiche at 340°F for 17 minutes in a convection oven.
Full recipe here: