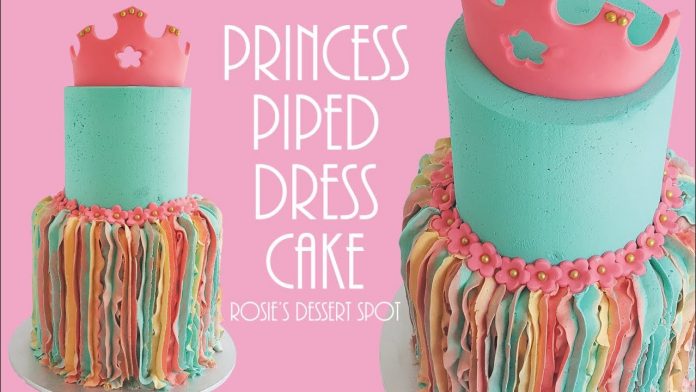 In this cake decorating tutorial, I demonstrate how to create a pretty 2 tier dress / princess cake using a 1M tip and an super easy fondant crown technique. Enjoy!
To order your personalized cake toppers, visit:
WANT TO LEARN CAKE DECORATING AND BE IN THE KNOW FOR UPCOMING CLASSES, EVENTS AND ONLINE SALES?
sign up here to be updated on all the above:
For more dessert inspiration and dessert sneak peeks, visit:
In these video tutorials, I normally use Bakels Premixes to save on time.
(Bakels is a bakery grade cake premix. Another great one is Allied Mills)
If you prefer to bake from scratch, I do have a range of awesome cake recipes here which convert to cupcake recipes very nicely too.
MUD CAKE:
WHITE CHOCOLATE MUD:
CHOCOLATE BUTTER BASED CAKE:
RED VELVET BUTTER BASED CAKE:
VANILLA BUTTER BASED CAKE:
I use these butter based cakes above because they are sturdy under fondant and stable at room temperature, as are the muds.
SOFT SPONGE CAKE:
AMERICAN BUTTERCREAM RECIPE (great under fondant):
SHORTENING BASED BUTTERCREAM (not ideal under fondant, but great for warmer conditions):
ULTIMATE GANACHE RECIPES:
And that would probably be one of the easiest princess cakes you could make that is in a 2 tier form. The crown is probably my favourite part of the cake haha- not that the dress bit isn't fun! The crown just tops the whole thing off and as you saw, it takes no time at all. If you give this a go, tag me in your creation on instagram! I love seeing what you guys come up with, it honestly makes my day, so please don't hesitate to send through your work to me! Until next time lovely people 😀
With love,
Rosie
****** A special thank you to these AMAZING Patrons who are supporting this channel through Patreon******
Connie Moore
Zena Warwar
Shakeara Sikder
Laura Coulter
Belinda Ellison
For business enquiries, please contact: rosiesdessertspot@gmail.com