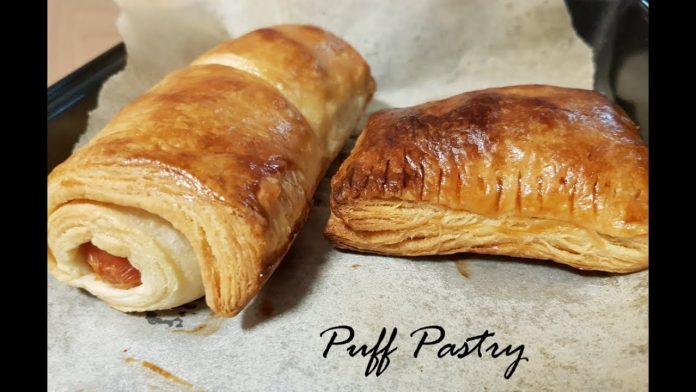 Puff Pastry Dough can be used to make so many awesome snacks and dishes. It may seem tedious and time consuming to make but it's actually really quite simple and you get to accomplish quite a few things in the process (i.e. in between each wait)!
In this video, I will be sharing some tips that I have gathered from various sources, and will be making some simple yet awesome cheese hotdog puffs and chocolate puffs using the puff pastry that I've made to show you the results 😉.
Nonetheless, Chicken & Mushroom Pie (which I will be sharing soon) is the main reason why I made this puff pastry dough (see the end of this video 🤤). Do look out for that video too!
Instagram: Instagram's hashtags: #yveecook #yveebake #eandykitchen
– RECIPE 📝 –
For 20cm x 40cm x 0.3-0.4cm puff pastry dough (after trimming the sides)
– INGREDIENTS 🥐 –
Butter Mixture: 140g unsalted butter (room temperature)
46g plain flour
Dough:
205g plain flour (plus some extra flour for rolling dough)
1 tbsp caster sugar
1/2 tsp salt
110ml ice cold water
1 tsp lemon juice or white vinegar (to tenderise dough; optional)
20g unsalted butter (room temperature)
– INSTRUCTIONS 👩‍🍳 –
1. Knead butter mixture ingredients together
2. Tear off a big sheet of cling wrap that can wrap 20cm x 20cm butter mixture
3. Put butter mixture in the middle of the cling wrap
4. Measure and fold the cling wrap 20cm x 20cm
5. Roll butter to fill up the cling wrap (this will give you a 20cm x 20cm butter slab)
6. Put this butter in the fridge for at least 2 hours (or till hardened) *1hr or 2 hrs? Video says 1*
7. Mix plain flour (205g), caster sugar and salt together
8. Add in cold water and lemon juice (or white vinegar)
9. Knead until it becomes a ball then flatten it
10. Wrap 20g unsalted butter at room temperature in the dough
11. Continue kneading till it becomes soft, shiny and does not stick to hand
12. Roll dough out to 25cm x 42cm (i.e. big enough to wrap the butter nicely later)
13. Cling wrap it and put in the fridge for at least an hour
After 1 hour…
14. Seal the butter inside the dough
15. Roll out to around 20-25cm x 40-45cm
16. With the messy side on top, fold in on the vertical ends so that both ends meet in the middle
17. Fold in half (i.e. close it)
18. Cling wrap it and put in the fridge for at least an hour (i.e. till butter hardens)
19. Repeat steps 16 to 19 three more times (i.e. total 4 set of folds) *always keep the open end on your right*
20. Roll the dough to slightly bigger than 20cm x 40cm (around 0.3-0.5 cm thickness)
21. Trim the sides and you will get your 20cm x 40cm puff pastry dough!
22. If you are not using it immediately, you can put it in between baking papers and put them inside a ziplock bag to be kept in the fridge (to be used within the next 2 days) or freezer (to be used within the next 2 weeks).
Enjoy ❤!
🔎 NOTE 🔍
Rolling:
1. Flour the tabletop regularly when rolling the dough to prevent it from sticking to the table top
2. At any point if your butter starts to melt too much, you can put it in the fridge for awhile before continuing
Folding:
1. Brush off excess flour on the surface of the dough before folding in
2. The open ends of the dough should be on your right side when folding (see video)
3. Make sure that the sides are parallel to each other when folding
4. It's better to keep the dough in the fridge overnight after your last set of folds