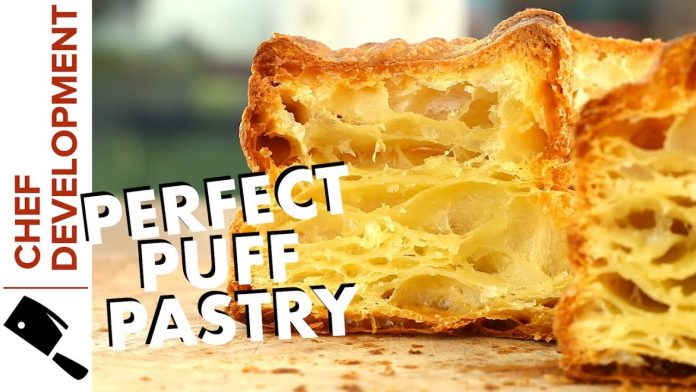 Puff pastry dough is basically magic! It starts off looking like a regular plain old pastry, that is until it goes into the oven. There it transforms into a tower of thousands of crispy, buttery shards of flaky pastry.
So what is the secret to making this puff pastry dough rise?
The real secret is steam and creating hundreds of paper thin layers of dough and butter in a process called lamination. That is where the real magic takes place, it's all in the technique of creating those glorious layers in the puff pastry.
Find out how to make puff pastry dough recipe here;
So even though the allure of shop-bought puff pastry dough may seem to much to resist when you need a quick pastry fix. Making your own puff pastry dough can be extremely satisfying and will always surpass any shop bought pastry, in term of it's flakiness, butteriness and also in flavour.
So grab your rolling pin and get ready to reach a kitchen milestone. making your very own puff pastry dough!
WANT TO BECOME A KITCHEN NINJA | JOIN OUR DOJO
If you enjoyed this video, hit that like button and if you want to see more, you can subscribe down below or head on over to our channel We really appreciate all your support.
For more videos, recipes, tips and techniques head on over to our website www.Chef-Development.com
We'll see you next time.
—————————————————————————————–
If you want to learn how to cook, we want to show you!
Find more recipes at our website;
Find us on;
Facebook –
Twitter –
Instagram –
Music from Jukedeck – create your own at
——————————————————————————————————-
SUPPORT OUR CHANNEL;
If you like our videos and want to see more, you can support our channel by subscribing, liking our videos and sharing our content with all your friends.
If you would like any to buy any of the equipment you see in this video consider purchasing it through our Amazon Affiliate links below.
It won't cost you a penny extra but we will get a small percentage of the sale and every little helps our channel. We will only ever link to equipment we actually use in the kitchen ourselves. Thanks so much, we'll see you soon!