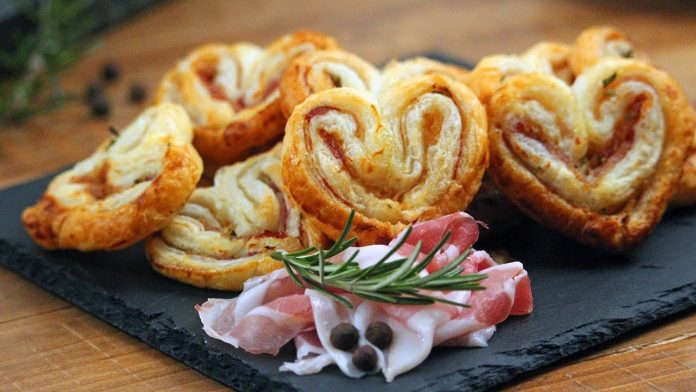 Super quick and easy puff pastry hearts filled with pancetta, rosemary and black pepper. This is a perfect idea for a Valentine's Day appetizer or for every time you want an easy to go snack.
Please, leave a comment and subscribe to my channel for more recipe videos!
FOLLOW ME:
FACEBOOK:
INSTAGRAM:
Ingredients
Makes about 25 puff pastry hearts:
1 sheet ( 8 oz – 230 g) fresh rectangular Puff Pastry
4 oz (120 g) Pancetta (or bacon)
3-4 fresh Rosemary sprigs
Black Pepper, freshly ground
1 egg yolk
2 tablespoons Milk
Salt
Directions:
Unfold the Puff Pastry sheet on a parchment paper and place some pancetta in the middle.
Chop and spread the fresh rosemary all over the pancetta and season with freshly ground black pepper.
Fold the two sides of the pastry sheet and let them meeting in the middle as shown in the video.
Place all over pancetta, chopped rosemary and freshly ground black pepper again.
Fold again the two sides until they meet in the middle.
Fold one half of the pastry over the other.
Wrap the puff pastry roll in the parchment paper and refrigerate it for about 15-30 minutes.
Cut pastry into ½ inch (1cm) thick slices and stretch them a little bit.
Place the slices on a baking sheet lined with parchment paper.
Brush them with an egg yolk and milk mixture and season with a pinch of salt.
Bake them in preheated oven at 350° F (180 °C) for 10-12 minutes.
Remove from the oven, let them cool down for 5 minutes and serve.