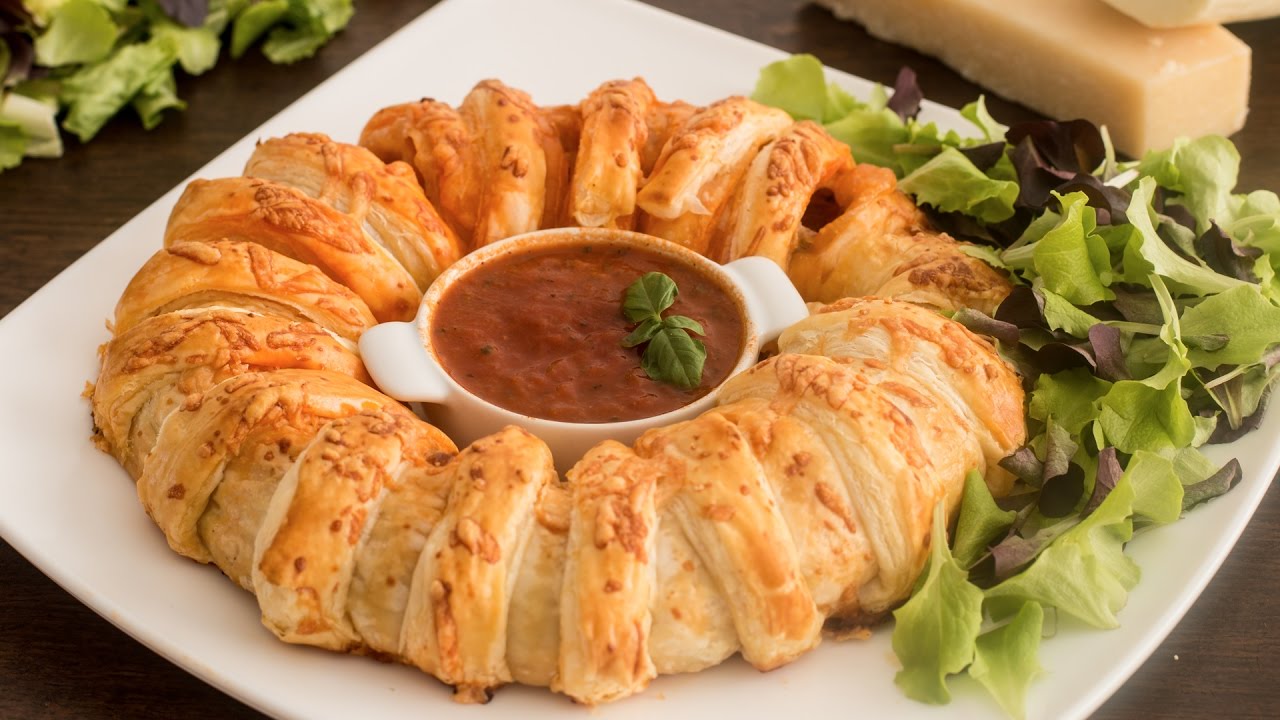 Puff Pizza Ring is an easy appetizer idea you can prepare just in few minutes and have it ready by the time guests arrive. It looks quite impressive and appetizing and takes no more than 10 minutes to have it ready to go in the oven.
To print the recipe check the full recipe on my blog:
Ingredients
Makes about 8 servings
1 sheet (9 oz – 275g) puff pastry, thawed
Homemade tomato pizza sauce
Recipe here:
1 cup (100g) Mozzarella cheese, grated
2 oz 60g) Pepperoni slices
2 tbsp (15g) Parmesan cheese, grated
Topping
1 egg, beaten
1 tbsp (7g) Parmesan Cheese, grated
1. Preheat oven to 400º F (200C) and line a baking sheet with parchment paper.
2. Unfold puff pastry and use a rolling pin to roll it out a bit to make it wider.
3. Use a knife, pizza cutter or pastry cutter to cut thin strips all the way up to ⅔ of the length of the pastry.
4. Spread tomato pizza sauce over the remaining long uncut dough. You can find my recipe for tomato pizza sauce here:
5. Top with Mozzarella cheese, pepperoni slices and Parmesan in this order.
6. Separate the dough strips a bit and start folding the dough with the filling all over the strips.
7. Carefully transfer the log to the prepared baking sheet, form into a circle and seal the edges.
8. Brush the top of the ring with beaten egg and sprinkle Parmesan cheese if desired.
9. Bake for about 25 minutes until golden brown.
10. Let it cool slightly before serving.
Background music
Follow me:
FACEBOOK:
INSTAGRAM:
PINTEREST:
WEBSITE:
GOOGLE+: