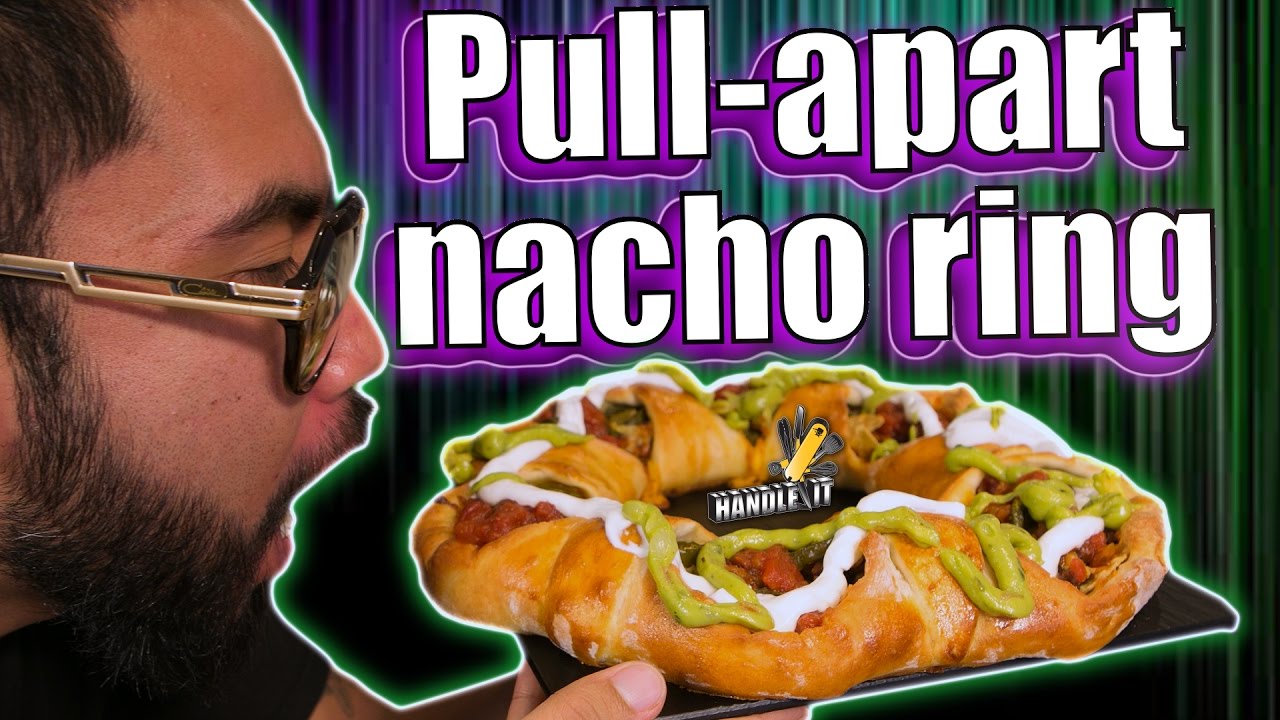 Mike Santos' first appearance on Handle It, using his magic skills to show you all how to make a Pull Apart Nacho Ring.
Ingredients
1 Ball of store bought pizza dough
1 Bag of Tortilla chips
1 Cup of cheese whiz/queso
1 Cup of shredded cheese
1 Cup of salsa
1 Cup of sour cream
1/2 Cup of jalapenos
1/2 Cup of guacamole
1/2 Lb of shredded beef
1 Diced onion
1 Pack of bacon
1/2 Brick of Velveeta
1/2 Cup of milk
1 Can red peppers
salt and pepper
Tools
1 12" Pizza tray
1 Chef knife
1 Cutting board
2 Frying pan
2 Zip lock bags
1 Small sauce pan
1 Wooden/slotted spoon
Step 1
Cut bacon into bits and cook in a frying pan until crispy.
Step 2
Cook ground beef in frying pan with diced onions, and season with salt, and pepper.
Step 3
Roll out pizza dough into a circle, then cut a star in the center. Begin laying down ingredients forming a ring around the star in this order: cheese whiz, tortilla chips, Cooked ground beef, shredded cheese, bacon bits,shredded cheese and jalapenos. Fold pointed edges of the dough under the flap, then egg wash and bake in the oven for 20 minutes at 400 degrees Fahrenheit.
Step 4
In a small sauce pan, warm half of the milk, and then add Velveeta and simmer until completely melted.
Strain the red peppers and add to the cheese sauce.
Step 5
Once Nacho ring is cooked top with salsa, sour cream and guacamole. serve with cheese dipping sauce.
Check out Harley's Video Diaries –
We have a #YouTubeGaming Channel:
LIKE/FAVORITE and SHARE for new meals every week!
And order the COOKBOOK from any of these links:
Amazon: …
B&N: -…
BAM: …
iBooks: …
Need tools to cook with? Order the cooking arsenal:
Pull-Apart Nacho Ring – Handle It