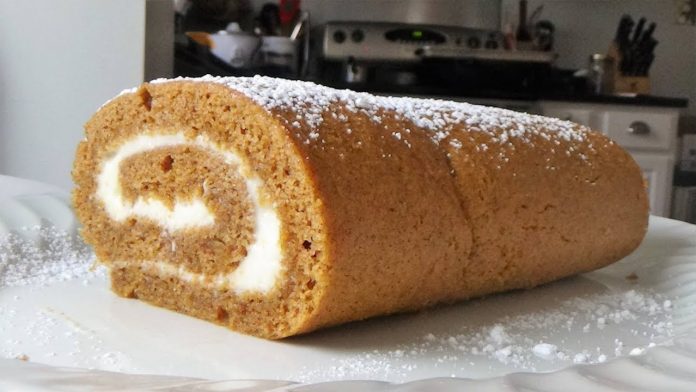 This pumpkin cake roll recipe is failed proof. It is so moist and delicious. I made it with gluten-free all-purpose flour as well and it came out the same as regular one. So good.
Ingredients:
3/4 cup all purpose flour
1/2 ts. baking soda
1/2 ts. baking powder
1+1/2 ts. pumpkin pie spice
1/4 ts. salt
3 large eggs
1/2 cup packed light brown sugar
1/4 cup white sugar
2 ts. vanilla extract
2/3 cup solid pure pumpkin puree (not pumpkin pie filling)
Cream cheese icing:
1 block (8oz) soft cream cheese,
1/2 cup softened butter
1 ts. vanilla extract
2-3 cups powdered sugar
.
Method:
1. Beat eggs, white sugar, brown sugar and vanilla until light in color and thick about 2-3 minutes. Then add pumpkin puree and vanilla extract.
2. Mix flour, baking soda, baking powder, spices, and salt together in a separate bowl. Then add the flour mixture into the pumpkin mixture, mix well until just combined.
3. Pour the cake batter into a jelly roll pan, lined with parchment paper on the bottom of the pan. Spread the batter evenly using an offset spatula.
4. Bake in the preheated oven at 375 deg. for 12-14 minutes. The cake is done by touching the cake and it will spring back.
5. Let the cake rest in the pan for 5 minutes, then run an offset spatula around the edges. Grab the parchment paper at one corner and slide the cake out onto a board.
6. Loosen the parchment paper around the edges and peel the paper off, then put another piece of parchment paper on top, flip it and put another parchment paper on before rolling the cake into a spiral shape with the parchment paper while the cake still warm. Let cool completely.
7. Make cream cheese icing by mixing cream cheese and butter together until creamy, then add vanilla and powder sugar, 1 cup at a time, mix until smooth. Keep the cream cheese icing in the fridge.
8. Unroll the cake and peel the parchment paper off. Spread cream cheese icing on the cake leaving 1″ space around the edges. Re-roll the cake and wrap it with wax paper and another layer of plastic wrap. Place the cake in the fridge for 4-6 hours (put it in a bread bag or freezer bag, if you want to freeze it.)
9. Cut both ends off when serving for a nice presentation and sprinkle with powdered sugar.