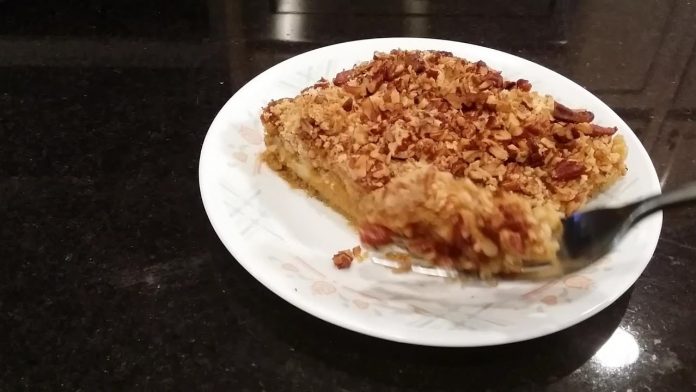 Recipe below: Meso's Oooey Gooey Pumpkin Cake is one of the easiest most delicious cakes you can make. It's so simple you should call the kids in the kitchen with you and let them help. Sweet potatoes can also be substituted for the pumpkin with very little change in taste. Get this on your table.
Meso's Oooey Gooey Pumpkin Cake
18 ounces pumpkin puree
1 box of yellow cake mix
1 cup sugar
½ cup melted butter
12-ounce can evaporated milk
¾ cup chopped pecans
3 eggs
3 teaspoons cinnamon
cooking oil spray
Beat eggs and milk together, with mixer. Add pumpkin, sugar, and cinnamon. Mix well. Pour into a buttered/greased 9×13 pan. Sprinkle dry white or yellow cake mix over pumpkin mixture. Drizzle with melted butter over top. Finally sprinkle with chopped pecans. Bake at 350 degrees (F) for 35 to 40 minutes, or until toothpick inserted in comes out clean. Serve warm or cold.