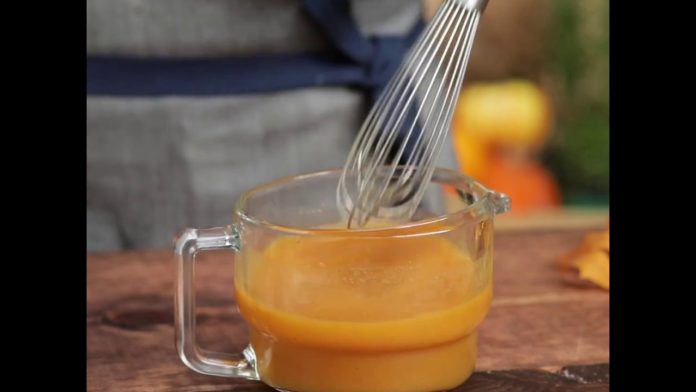 Pumpkin Pie Spiced Mule & Brie Puff Pastry Bites, brought to you in partnership with Tastemade.
PUMPKIN SPICED MULE:
3 1/4 ounces pumpkin-infused vodka (recipe below)
1 1/4 ounces lemon juice
2 tablespoons light brown sugar
Ice for shaking
4 ounces Strongbow Artisanal Blend
Crushed graham crackers for the rim
Apple chip for garnish (optional)
PUMPKIN-INFUSED VODKA:
4 ounces pumpkin puree
2 teaspoons pumpkin pie spice
1 vanilla bean
2 cups vodka
STEPS:
To prepare pumpkin-infused vodka, whisk together ingredients and pour into a sealed container, and steep for 2-3 days in a cool, dark place, shaking periodically. Strain to get every last drop of vodka!
Prepare cocktail glasses by moistening rim with lemon wedges. Dip in crushed graham crackers to coat rim evenly.
In a cocktail shaker, mix infused vodka, lemon juice and brown sugar. Fill with ice and shake vigorously for 12-15 seconds until chilled.
Strain into chilled coupe glasses and garnish with floating apple chips.
BRIE PUFF PASTRY BITES:
1 sheet of puff pastry, thawed in refrigerator overnight
Melted mutter for brushing
1 tablespoon picked fresh thyme
1/2 cup cranberry sauce
4 ounces brie, rind removed and flesh cut into 1-inch squares
1/2 cup honey
1 tablespoon coarse black pepper
1/4 cup unsalted butter, softened
1/2 cup toasted and roughly chopped walnuts
Orange zest for garnish (optional)
STEPS:
Preheat oven to 400°F, and prepare a baking sheet with parchment paper.
Unroll puff pastry onto a floured work surface and cut into 5 columns by 5 rows to form 2 squares. Using the bottom of a shot glass or spice jar, gently make circle indentations in the middle. Pierce the middle of the circle with a fork to keep from puffing.
Place on baking sheet and bake for 5-7 minutes until golden brown. Remove from oven and poke again with the end of the shot glass to create a cup.
Fill each 'cup' with 1 teaspoon of cranberry sauce, top with brie square, a bit more sauce, sprinkle with fresh thyme and bake until cheese is melty about 5-7 minutes.
Prepare black pepper honey by stirring together honey, black pepper, butter and toasted walnuts. Drizzle on warm bites as soon as they come out of the oven. Enjoy warm with orange zest.