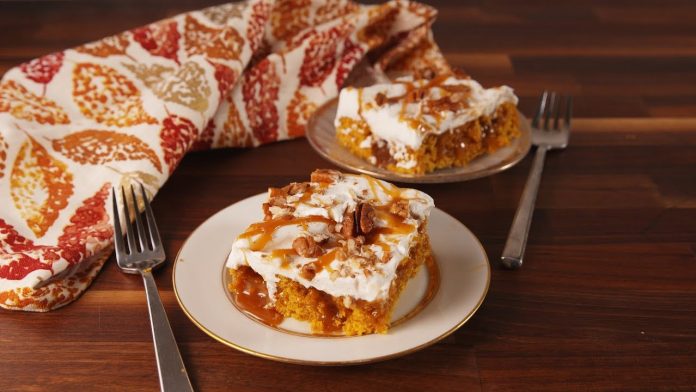 Get the full recipe from delish:
INGREDIENTS
1 box vanilla cake mix
15-oz. can pumpkin puree
10-oz. jar caramel
8-oz. container Cool Whip
Pumpkin pie spice, for garnish
1/4 c. toasted chopped pecans
DIRECTIONS
1. Preheat oven to 350° and line a 9″-x-13" pan with parchment.
2. In a large bowl, combine cake mix and pumpkin puree and whisk until smooth. Spread batter into prepared pan and bake until a toothpick inserted into the middle of the cake comes out clean, 27 to 30 minutes. Let cake cool completely.
3. Using the back of a wooden spoon, poke holes all over surface of the cake. Pour caramel to fill holes.
4. Spread Cool Whip all over the top of cake, then sprinkle with pumpkin pie spice and drizzle with more caramel. Sprinkle with chopped pecans.
5. Cut into squares and serve.
SUBSCRIBE to delish:
FOLLOW for more #DELISH!
Facebook:
Twitter:
Instagram:
Pinterest:
Google+: