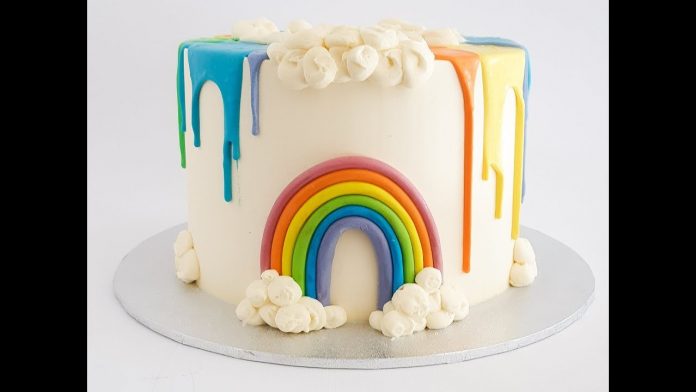 In this cake decorating tutorial, I demonstrate how to easily create a rainbow drip on your cake and how to create a fondant rainbow with buttercream clouds to decorate. Enjoy!
If you are enjoying these videos and would love to see more free and valuable cake decorating tutorials on this Channel, check out my Patreon page for awesome perks and rewards and help me to continue bringing you guys fabulous and free content each week. Visit:
To order your personalized cake toppers, visit:
WANT TO LEARN CAKE DECORATING AND BE IN THE KNOW FOR UPCOMING CLASSES, EVENTS AND ONLINE SALES?
sign up here to be updated on all the above:
For more dessert inspiration and dessert sneak peeks, visit:
In these video tutorials, I normally use Bakels Premixes to save on time.
(Bakels is a bakery grade cake premix. Another great one is Allied Mills)
If you prefer to bake from scratch, I do have a range of awesome cake recipes here which convert to cupcake recipes very nicely too.
MUD CAKE:
WHITE CHOCOLATE MUD:
CHOCOLATE BUTTER BASED CAKE:
RED VELVET BUTTER BASED CAKE:
VANILLA BUTTER BASED CAKE:
I use these butter based cakes above because they are sturdy under fondant and stable at room temperature, as are the muds.
SOFT SPONGE CAKE:
AMERICAN BUTTERCREAM RECIPE (great under fondant):
SHORTENING BASED BUTTERCREAM (not ideal under fondant, but great for warmer conditions):
ULTIMATE GANACHE RECIPES:
The white chocolate ganache:
300 grams white chocolate
100 grams heavy cream
1 teaspoon wilton white white icing gel colour (this makes your ganache more vibrant in colour and opaque once you add in the other gel colours)
Thank you for watching 😀 If all has gone well, I have uploaded this on Tuesday the 19th of June, meaning I am currently flying over the ocean somewhere near the middle east, on my way it Italy!! Waahh! I hope you guys enjoyed this tutorial 😀 As promised, the tutorials will not be stopping just because I am on break. I have worked extra hard to prepare at least 8 videos in advance and have them all uploaded and scheduled to release as per usual. Thank you all for your continued and heart warming support. As much as I am looking forward to this holiday, I know I will be itching to get back into the kitchen and create again.
With love,
Rosie
****** A special thank you to these AMAZING Patrons who are supporting this channel through Patreon. Because of your help and other awesome supporters on Patreon, I can continue to create free videos for the community, teach my passion and continue to hopefully inspire others******
Connie Moore
Zena Warwar
Shakeara Sikder
Laura Coulter
Belinda Ellison
For business enquiries, please contact: [email protected]