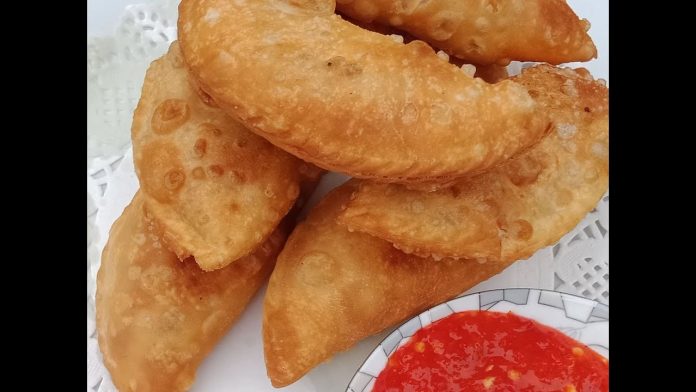 #currypuff #currypuffrecipe #howtomakecurrypuff #karipap #pastries #curriedpotatoes
Curry Puff also known as Karipap is a deep fried pastry in South East Asia often devour as tea snack or in between snack. It is often filled with curried potatoes, sardine, mince chicken or meat. The crust of the curry puff is crispy and flaky.
This video can be broken down into three steps :
1. the dough or pastry making
2. the stuffing
3. finally shaping and frying
How To make the pastry for Curry Puffs
1/2 kg all purpose white flour or maida
3 tablespoon of margarine
1 teaspoon salt
2 tablespoon cornflour
Add the above ingredients into a mixing bowl and give it a quick mix.
3 tablespoon of cooking oil…
Heat up the cooking oil and add it into that mixture that is in the bowl. carefully mix the since the the oil is hot. once everything mixes well and the flour comes off crumbly…take ice cold water and pitch in little by little to make a dough…once that is done, make sure to give it a rest in refrigerator.
How to Make the Stuffing for Curry Puffs
Ingredients:
3 tablespoon cooking oil
1 teaspoon cumin seed
1/2 bowl of finely chopped onions ( 2 to 3 Onions)
3-4 Potatoes finely chopped ( these potatoes are not boiled…if you cut them up finely they can cook in no time)
2 tablespoon Ginger (finely chopped)
Salt to taste (1/2 teaspoon could be fine)
Water if needed
1 tablespoon of Red chilies Powder
1/2 teaspoon Turmeric powder
1 tablespoon of Sugar
2-3 Green chilies *finely chopped
1 teaspoon of chaat masala
How To Shape And Fry
Curry puff tool
Cooking oil for deep fried
#currypuff #currypuffrecipe #karipapresipe #iftarspecial #ramadan2019 #ramzanspecialrecipe #happycookiingtoyou #ilovefood #cookinginpashto