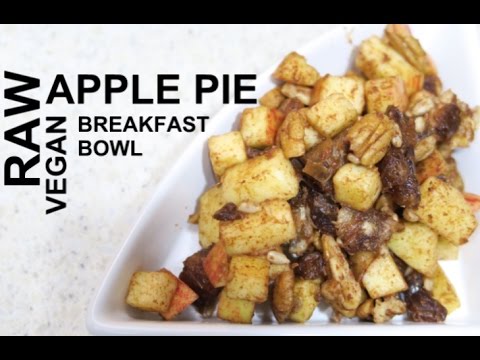 Thank you for watching and subscribing to Raw Intuition. If you enjoyed this video, please give it a thumbs up and share it on social media.
This is a great recipe to bring to your next family gathering or office party. This Apple Pie Breakfast Bowl is sure to convince even the pickiest eater to give more fruits and vegetables a try.
It's always best to soak all nuts and seeds for at least 8 hours before consuming. I like to soak mine in large batches and then dehydrate them and keep them in a glass jar in the fridge so they are ready for use any time I want to make a recipe.
HOW TO GO VEGAN OVERNIGHT
STEP 1- Educate yourself:
The Great Lymphatic System:
Detoxification The Art And Science Part 1:
Reversing Diabetes Through a Plant Based Diet:
101 Reasons To Go Vegan:
The sustainability secret:
EARTHLINGS :
Carnism Melanie Joy's TED talk:
The Best Speech You Will Ever Hear:
Why Vegetarians Should Go Vegan:
STEP 2- Eat vegan
Complete Guide to Vegan Food:
STEP 3- Cosmetics and Clothing
Complete Guide To Vegan Cosmetics:
Complete Guide To Vegan Clothing:
STEP 4- Live vegan and connect
Facebook groups:
STEP 5- Become an activist
Guide to Vegan Activism:
—–
Subscribe and follow Raw Intuition :
YouTube:
Instagram:
Facebook:
Twitter:
Email: [email protected]