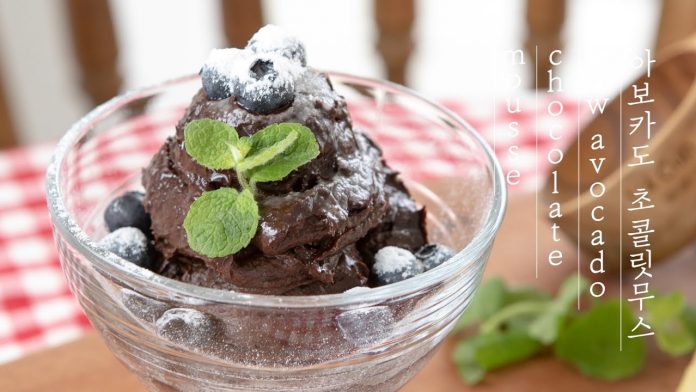 It's been a long time since I made the raw vegan dessert recipe. I used avocado to make avocado chocolate mousse. It was full of the dark chocolate flavor that I love so much. You can add honey or maple syrup instead of agave syrup, and you can add two dried persimmons instead of medjool dates.
* Ingredients :
– 1 avocado
– 4 tbsp cacao powder
– 1 tbsp agave syrup
– 2 medjool dates
– a pinch of salt
– a pinch of cinamon powder
* How to make :
– Cut 1 avocado in half and remove a seed, then scoop out only the fresh.
– Add avocado, 2 medjool dates, 4 tablespoons of cacao powder, a pinch of cinnamon powder, a pinch of salt, and 1 tablespoon of agave syrup to food processor and blend well.
– Spoon it with ice cream scoop and serve it in a dessert bowl.
– Toppings on various fruits and nuts and so on. Chocolate mousse is complete!
====================================
오랜만에 만들어본 로푸드 디저트 레시피. 아보카도를 사용해서 아보카도 초콜릿 무스를 만들어 보았어요. 제가 너무나 좋아하는 다크초콜릿의 진하고 달콤한 풍미가 가득했어요. 아가베시럽 대신 꿀이나 메이플시럽을 넣으셔도 좋고, 대추야자 대신 곶감을 2개 넣으셔도 된답니다.
* 재료 :
– 아보카도 1개
– 카카오파우더 4큰술
– 아가베시럽 1큰술
– 대추야자 2개 (씨 제거한 것)
– 소금 한꼬집
– 계피가루 한꼬집
* 만드는 방법 :
– 아보카도 1개를 반으로 잘라 씨를 제거한 뒤 과육만 발라냅니다
– 푸드프로세서에 아보카도, 대추야자 2개, 카카오파우더 4큰술, 소금 한꼬집, 계피가루 한꼬집, 아가베시럽 1큰술을 넣고 갈아줍니다
– 아이스크림 스쿱으로 떠서 디저트 볼에 담아줍니다
– 여러가지 과일과 견과류 등을 토핑으로 올려주면 초콜릿 무스 완성!
Track : Love in Italy
Music by 브금대통령
Music provided by 브금대통령
Watch :