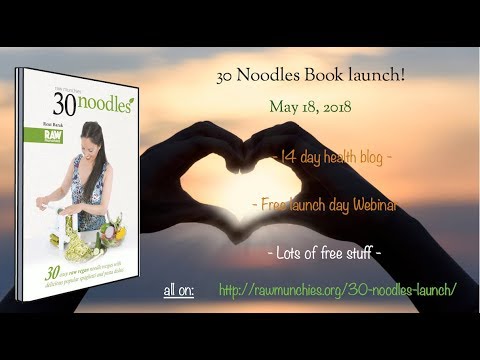 Images here:
SEE THE BLOG, Get the free stuff, go on the Webinar VIP:
30 Noodles
Easy pasta and noodles, featuring some of the most popular pasta and spaghetti recipes. This book has both regular and ultra-detox recipes.
Join the fun!
This book is all about the warm crunch: pesto,
fettuccine, pad thai, and even coconut chicken, all in their raw vegan version. It's a great way to have a quick, impressive healthy meal.
30 recipes for 30 days of a spiralizing adventure. It's a whole new way of cooking!
"It's always great to share food with the people we love, and Raw Munchies book series is all about making something special to have together. It could be an exotic smoothie, a healthy spaghetti, or a portobello mushroom steak. It's been my greatest challenge and joy to create this book series and open up to this new art: to bring popular and gourmet recipes from around the world to the raw vegan table." Reut Barak
Tags:
#RawMunchies #rawmunchies #cookbook  #vegan #rawvegan #spaghetti #pesto #macandcheese #meatballs #farfalle #cream #30noodles #padthai #fettuccine #guacamole #Parmesan #booklaunch #freebook #webinar #pasta #padthai #veagannoodels #veganpasta #cookbook #vegancookbook
Website:
Twitter:
Pinterest:
Facebook:
Instagram:
references:
Dr. Morse Diet: