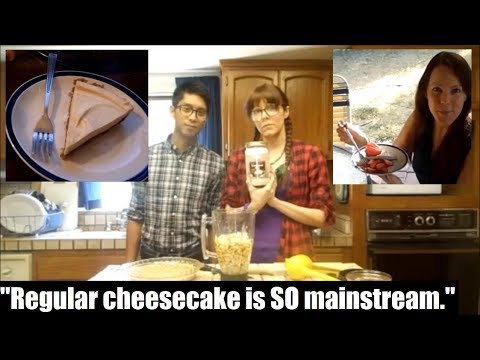 Raw vegan cashew cheesecake…is surprisingly tasty. Just don't think of it as a cheesecake, or you'll be disappointed. It's no less caloric than the real thing (newsflash, nuts are full of fat and calories) but it is packed with nutrients, so it can be eaten as a meal, rather than an indulgence.
I used a Kitchen Aid mini chopper in this video and I love it! It's small, so it doesn't take up much counter space, but it's still very powerful and has lasted me for years so far. Get it here:
The current blender I use:
I originally uploaded this episode on April Fool's Day, 2014.
The crust:
-2 cups walnuts
-6 pitted dates
Puree in the food processor until the mixture resembles wet sand.
Line a pie plate with unsweetened shredded coconut, then press the walnut-date mixture evenly into the pan to make your crust.
The filling:
-3 cups soaked raw cashews (soak them overnight)
-1/2 cup honey
-the juice of 1 lemon
-1/4 cup coconut oil
-1 tsp vanilla extract
Puree in a blender until smooth. Pour the filling into the crust and refrigerate for at least 6 hours before cutting. Serve with fresh berries.
FB for food pics, recipes, short videos:
My Japanese anime/game translating channel: