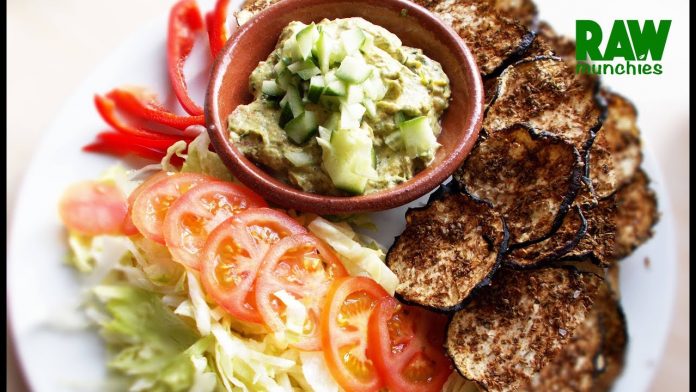 Guacamole:
TannyRaw's recipe:
MMM… A great savoury snack, which I now can't stop eating, with vegetables and dips… especially Guacamole! Yum!!!
Crunchy Eggplant Crackers (Nachos)
Raw Vegan and Gluten Free:
Yields one plate
""Dough""
2 cups Eggplant
Herbal Mix
2 teaspoons olive oil
1 teaspoon apple cider vinegar
2 teaspoons oregano
1 teaspoon nutmeg
1 teaspoon coriander
pinch salt
Instructions:
Slice Eggplant thin.
Mix together Herbal Mix ingredients, and then mix with the Eggplant.
Dehydrate on a stainless steel or mesh sheet, at 42 degrees Celsius (108 degrees Fahrenheit) for 3-4 hours.
Serve with Guacamole
*Music Rights: The intro music is a fully owned product of Rawmunchies.org, and may not be distributed without permission. Music tracks within video may vary and are purchased under full Youtube license.
This video's music track information: "Inspiring Uplifting Happy Acoustic" by ArtHaiz under Music Standard License.
Books:
Website:
Email List:
Twitter:
Pinterest:
Facebook:
Instagram:
tags: #Raw #vegan #recipe #rawveganrecipe #rawvegan #glutenfree
#rawvegancrackers#crackers #vegancrackers #eggplant
#guacamole #veganguacamole #vegandip #dip #aubergene #eggplantcrackers #aubergenecrakers #vegannachos #rawvegannachos
references:
Dr. Morse Diet: