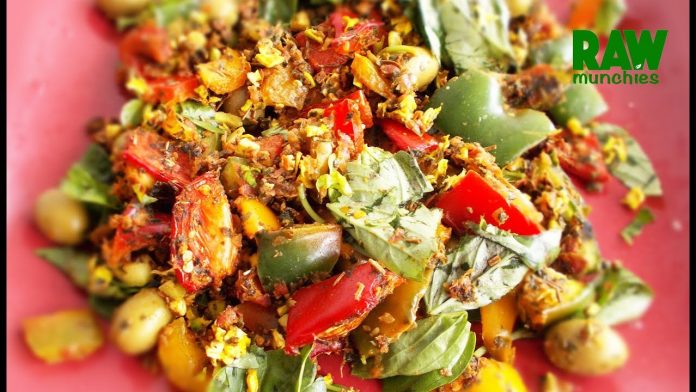 Easy to make and sooooo good! I love this recipe. It's a great raw vegan treat and I love to make it and share with my friends. Try out the amazing blend of fresh and dehydrated vegetables :)!
Dehydrated Bell Peppers with Basil and Olives
Raw Vegan and Gluten Free:
Makes one plate
Dehydrated Bell Peppers
2 tomatoes
1/2 cup basil
1 teaspoon olive oil
1 teaspoon rosemary
1 teaspoon coriander
12 teaspoon paprika
pinch chili flakes
3 colorful bell peppers
Zucchini Snow
1 zucchini
the juice of 1 lemon
1 teaspoon olive oil
1 teaspoon oregano
pinch salt
pinch nutmeg
Garnish
1/2 cup olives
handful chopped fresh basil
1. In a food processor or high speed blender, blend
tomatoes, basil, olive oil rosemary, coriander, paprika and chili flakes, into a rough sauce.
2. Chop bell peppers and pour the sauce over the peppers.
3. Peel zucchini and chop into thin slices. Blend with the rest of the Zucchini Cheese ingredients.
4. Dehydrate Belle Peppers and Zucchini Cheese separately, on a Teflex sheet at 42 degrees Celsius (108 degrees Fahrenheit) for 4-5 hours.
5. Mix Belle Peppers and Zucchini Cheese, together with basil and olives."
*Music Rights: The intro music is a fully owned product of Rawmunchies.org, and may not be distributed without permission. Music tracks within video may vary and are purchased under full Youtube license.
This video's music track information: "Inspiring Uplifting Happy Acoustic" by ArtHaiz under Music Standard License.
Books:
Website:
Email List:
Twitter:
Pinterest:
Facebook:
Instagram:
tags: #Raw #vegan #recipe #rawveganrecipe #rawvegan #glutenfree
#rawveganpeppers #basilpeppers #dehydratedpeppers
references:
Dr. Morse Diet: