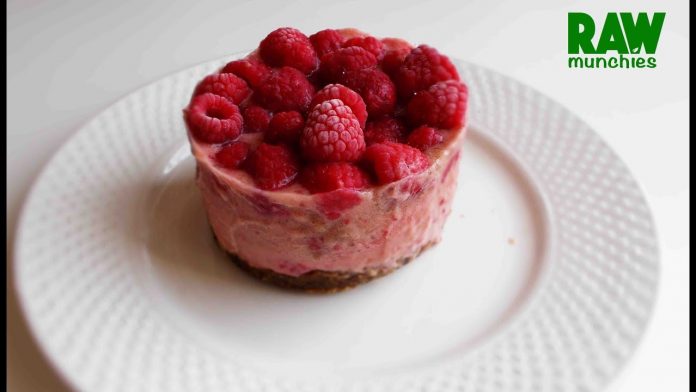 An ultra-detox ice cream cheesecake!!! Creamy and sweet, this is a great favourite to share (or eat alone) – no guilt, no gluten. Cake for breakfast (lunch, and dinner…. Mmm)
Frozen Strawberry Ice Cream Cheesecake
Raw Vegan and Gluten Free:
Makes two
Base:
1/2 cup dried pitted dates
1/2 cup raisins
1/2 cup dried mulberries
Cake fill:
5 bananas
2 cups strawberries
1 teaspoon vanilla
Topping:
raspberries
1. In a food processor or high speed blender, blend Base ingredients and set in cake tin.
2. In a food processor or high speed blender, blend Cake Fill ingredients and lay over base.
3. Cover with raspberries and put in freezer for 3-4 hours to set.
Recipe Detox Grade: 6
*Music Rights: The intro music is a fully owned product of Rawmunchies.org, and may not be distributed without permission. Music tracks within video may vary and are purchased under full Youtube license.
This video's music track information: Inspiring Uplifting Happy Acoustic by ArtHaiz under Music Standard License.
Books:
Website:
Email List:
Twitter:
Pinterest:
Facebook:
Instagram:
Tags:
#Raw #vegan #recipe #rawveganrecipe #rawvegan #glutenfree
#rawvegandessert #rawvegancake #rawveganbake #cake #glutenfreecake #desserts #cheesecake #rawvegancheesecake
references:
Dr. Morse Diet: