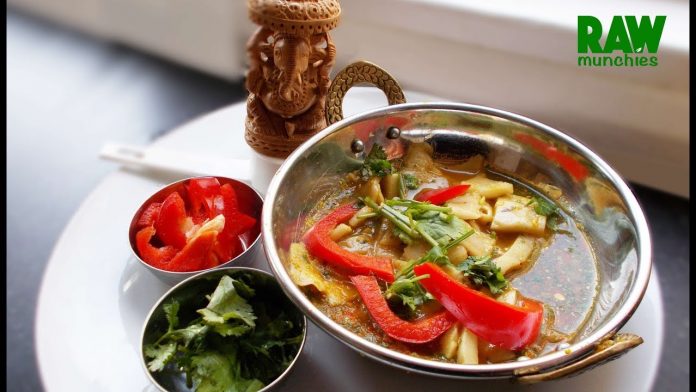 Easy and aromatic, this impressive dish, with the exotic taste of traditional chicken curry, is a great way to share a delicious raw meal with family and friends. Got the cravings yet? It's ready to raw!
Mission Raw links (recipe follows):
Amazon – print and ebook
iBooks
Nook
Kobo
Spicy Chicken Curry
Raw Vegan and Gluten Free:
Serves Two
Meat
the meat of 2 Thai coconuts
2 tablespoons cold-pressed olive oil
4 tablespoons coconut aminos
2 teaspoons Chicken Curry Masala (herbal poultry seasoning)
Sauce
2 tablespoons freshly grated ginger root the juice of 2 lemons
the peel of one orange
2 tablespoons cold-pressed olive oil
4 tablespoons coconut aminos
1 teaspoon Chicken Curry Masala pinch salt
pinch garlic powder (optional)
Vegetables
4 tablespoons fresh coriander 1 red or orange bell pepper
Instructions:
Meat
Cut the coconut meat into 1 1⁄2 inch (4 centimeter) pieces and marinade with olive oil, coconut aminos, and Chicken Curry Masala for half an hour. For spicier taste, you can add more Chicken Curry Masala.
Sauce
In a food processor or high-speed blender, blend all Sauce ingredients.
Vegetables
Chop fresh coriander, and slice the bell pepper. Then mix with meat, and sauce.
Marinade for at least 3 hours. You can also marinade overnight for a strong taste.
Carefully heat to 108 degrees Fahrenheit (42 degrees Celsius), using a thermometer to check and ensure the temperature doesn't go higher.
Recipe Detox Grade: 5″
*Music Rights: The intro music is a fully owned product of Rawmunchies.org, and may not be distributed without permission. Music tracks within video may vary and are purchased under full Youtube license.
This video's music track information: "Inspiring Uplifting Happy Acoustic" by ArtHaiz under Music Standard License.
Books:
Website:
Email List:
Twitter:
Pinterest:
Facebook:
Instagram:
" .
.
.
.
.#Raw #Vegan #RECIPE #Youtube #Video #Rawmunchies #rawvegan #glutenfree #youtubevideo #youtuberecipe #youtuber"
references:
Dr. Morse Diet:
"#recipe
#Raw #vegan #rawvegan #rawveganchicken #chicken #chickencurry #rawvegancurry #vegancurry #curry #rawveganchickencurry #veganchickencurry #veganchicken #indianrecipe #youtube #youtuberecipe #youtuber #youtubevideo"