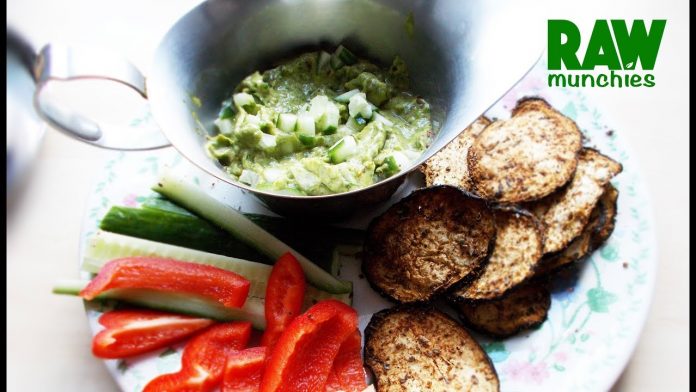 Eggplant nachos / crackers:
…By far my favourite dip!! I LOOOOVE guacamole. I can eat it with a spoon and I never get enough! My family and friends love my many variations of it, and this one, without sulphur is my yum yum treat!
Sulfur Free Guacamole
Raw Vegan and Gluten Free:
Serves Two
1 large acovado
the juice of 1 lemon
handful coriander leaves
1 tablespoon olive oil
1 teaspoon oregano
pinch nutmeg
1 small tomato
garnish
sliced cucumber
Instructions:
In a food processor or high speed blender mix well all ingredients, except tomato.
Add tomato and serve.
Alternatively – Fork mash the avocado and chop the rest of the ingredients, mixing them together.
Garnish with cucumber
serve with Raw Vegan Crunchy Eggplant Crackers (Nachos)"
*Music Rights: The intro music is a fully owned product of Rawmunchies.org, and may not be distributed without permission. Music tracks within video may vary and are purchased under full Youtube license.
This video's music track information: "Inspiring Uplifting Happy Acoustic" by ArtHaiz under Music Standard License.
Books:
Website:
Email List:
Twitter:
Pinterest:
Facebook:
Instagram:
"tags: Tags:
#Raw #vegan #recipe #rawveganrecipe #rawvegan #glutenfree #guacamole #veganguacamole #vegandip #dip
#rawvegancrackers#crackers #vegancrackers #eggplant
#aubergene #eggplantcrackers #aubergenecrakers "
references:
Dr. Morse Diet: