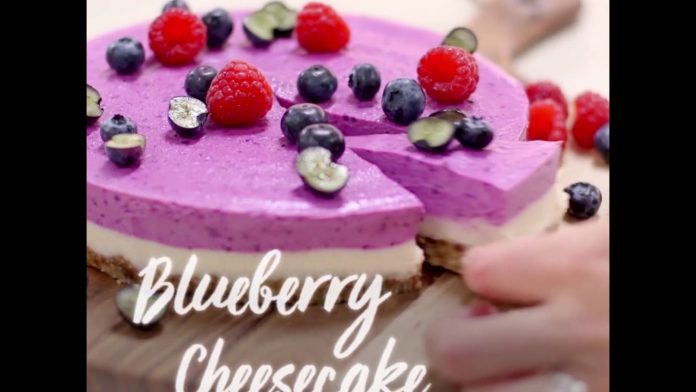 A stunning raw dish that tastes as good as it looks! Perfect for impressing dinner guests (or stuffing yourself silly on the couch… 😉)
🍝 Delicious plant-based recipes 👉
🆓 ORDER your free Veg Starter Kit! 👉
𝙄𝙣𝙜𝙧𝙚𝙙𝙞𝙚𝙣𝙩𝙨
RAW BLUEBERRY & MACADAMIA CHEESECAKE
2 cups raw macadamias
1/2 cup maple syrup
juice of 1 lemon
3/4 cup coconut oil, melted
1 teaspoon pure vanilla extract
1 cup fresh or frozen blueberries
fresh blueberries or raspberries, to garnish (optional)
NUTTY COCONUT BASE
1 & 1/2 cups raw walnuts or almonds
5 dates, pitted
1/4 cup desiccated coconut
1 tablespoon maple syrup
𝙈𝙚𝙩𝙝𝙤𝙙:
– Soak the macadamias in water for at least 2 hours, or preferably overnight.
– Grease a 20 cm spring-form cake tin with coconut oil.
– Put all the coconut base ingredients in a food processor and grind together until the mixture resembles a sticky crumble. Press the mixture firmly into the cake tin and set aside.
– Drain the macadamia nuts and place in a high-speed blender
with the maple syrup, lemon juice, coconut oil and vanilla. Blend to a thick, creamy consistency, then pour half the macadamia mixture into the cake tin.
– Add the blueberries to the remaining mixture in the blender. Blend on high speed until the mixture is a vibrant purple colour and the blueberries have dissolved. Pour the mixture into the cake tin, smoothing and levelling the top with a spatula.
– Cover with plastic wrap and leave to set in the fridge for at least 2 hours. Decorate with extra blueberries or raspberries, if desired. Cut into slices to serve.
– This cheesecake will keep for a few days in the fridge.
𝗧𝗜𝗣: Most berries work well in the cheesecake filling. Try strawberries or raspberries for a more subtle pink colour!