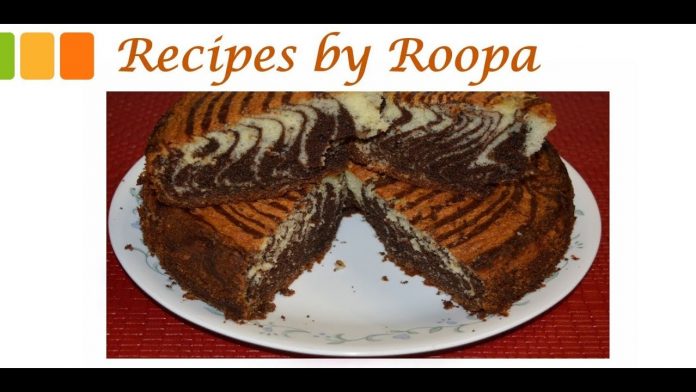 ****Recipes by Roopa*****How to make Zebra Cake****Cake Recipes*****Make Spongy Cake at home****Homemade cake ***
Ingredients:
1. All Purpose flour—-1 Cup.
2. Ground Sugar—-1 Cup.
3. Vegetable Oil—-1 Cup.
4. Egg—-3 Pieces.
5. Cocoa Powder—–2 tbs.
6. Baking powder—–1/2 tsp.
7. Baking Soda—–2 pinch.
8. Fruit salt—-1/tsp.
9. Milk—–1/4 Cup.
10. Vanilla essence—-4-5 drops.
Method:
1. Pre-Heat the oven to 180C/360F for 15 minutes.
2. Strain the all-purpose flour with baking powder and baking soda.
3. Make a paste of cocoa powder with milk.
4. Mix the egg and sugar till it gets fluffy.
5. Add all-purpose flour to it and mix slowly.
6. Add oil into it and mix it well till you get the ribbon consistency.
7. Add vanilla essence and mix it well.
8. Now divide the batter in two equal parts.
9. Mix the cocoa paste which we prepared earlier to one part of the batter.
10. Add fruit salt in both batter and mix it well.
11. Now start creating the layering of the batter in the greased malt as shown in the video.
12. Bake it for 25 to 30 minutes.
13. Cake will be ready for serving.
For more details:
www.recipesbyroopa.com
www.facebook.com/RecipesByRoopa
www.recipesbyroopa.blogspot.com