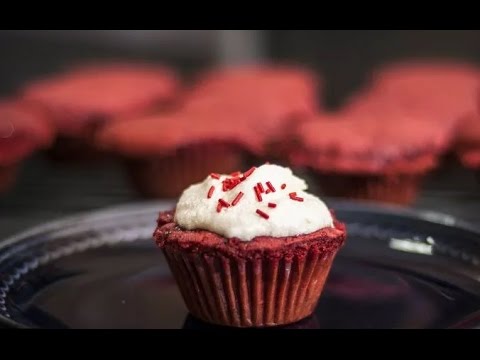 Red Velvet Cake Recipe With Cream Cheese Icing Simple Easy At Home!!! By Anything To Make
Red velvet cupcakes are a miniaturized version of the famous red velvet cake. With the characteristic red batter that keeps its color upon baking, these red cakes are perfect for Valentine's Day, the Fourth of July or any occasion really!
Ingredients:
1/4 cup (60g) butter
3/4 cup (150g) sugar
1 egg
1 tablespoon & 1/4 teaspoon cocoa powder
1 teaspoon red food coloring
1 1/4 cups (160g) flour
1/2 teaspoon salt
1 teaspoon vanilla
1/2 cup (120 ml) buttermilk
1 ounce (30 ml) water
1/2 teaspoon white vinegar
1/2 teaspoon baking soda
Cream cheese icing:
4 ounces (115g) cream cheese
1/4 cup (60g) unsalted butter
3/4 cup (90g) powdered sugar
1/2 teaspoon vanilla extract
Making the Cupcakes:
Preheat the oven to 350°F (180°C).
Fill a muffin tin with liners.
Use an electric mixer and blend the butter and sugar until fluffy.
Add the egg and mix well.
Combine the cocoa and food coloring in a small bowl.
Sift the salt and flour onto wax paper.
Add salt, flour, vanilla, buttermilk, and water to the mixing bowl.
Mix the vinegar and baking soda in a separate bowl.
Fold this mixture into the mixing bowl.
Pour the batter evenly into the liners.
Bake for 25 minutes. Store covered overnight.
Making the Cream Cheese Icing:
Blend the cream cheese and butter until smooth.
Add the powdered sugar and vanilla. Blend until smooth.
Spread the cream cheese icing onto the cooled cupcakes.
If You Like My Video So Please Like Share Videos And Don't Forget Subscribe….