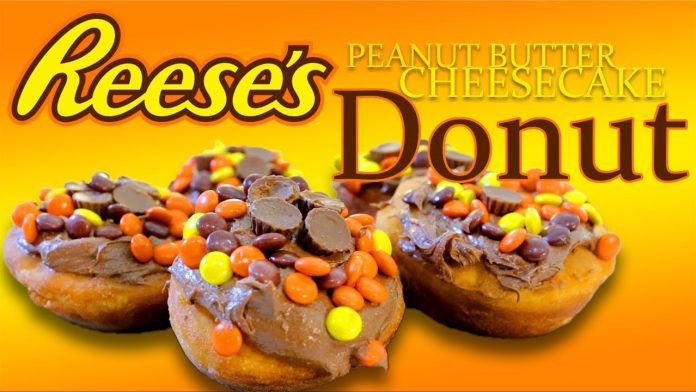 CoolDan host this weeks Handle It episode and creates a delicious dessert with your favorite chocolate snack Reese's .
Ingredients
1 Cup Reese peanut butter
1 Package Reese pieces
Reese peanut but cups large or mini
3 Packages of cream cheese
1 Cup of Sugar
Vegetable oil for deep frying
Dough
1 tbsp of yeast
3/4 cup of flour
3/4 cup of milk
3 eggs
1 Tsp vanilla extract
6 Tbsp melted Butter
4 Cups of flour
Tools
1 Rolling pin
1 Cutting board
Parchment paper
2 Mixing bowls
1 Metal slotted spoon
1 Large pot
1 Small sauce pan
1 Food processor
1 Oven tray
1 Chef knife
1 Cake spatula
Step 1
Warm 3/4 cup of milk then add 1 Tbsp of yeast and 3/4 cup of flour mix lightly then let yeast activate for 30 minutes. Once yeast has activated add 3 eggs, 1 Tsp of vanilla extract, 6 Tbsp's of melted butter and 4 cups of flour then mix until a dough forms and let rise for 30 minutes.
Step 2
Blend reese peanut butter cups in a food processor then mix with cream cheese and 1 cup of sugar and refrigerate.
Step 3
Flour a surface then roll the dough out to have 1/2 an inch thick. Cut out circles two for each doughnut.
Step 4
Add cheesecake filling to the center of one half of the doughnut and top with another half of a doughnut and close shut then let proof for 20 minutes.
Step 5
Deep fry doughnuts at 350 degrees farenhiet for 2 to 3 minutes each side.
Step 6
Top doughnuts with reese's peanut butter spread and reese pieces.
Check out Harley's Video Diaries –
We have a #YouTubeGaming Channel:
Follow the guys!
@harleyplays @princewallick @epicgrossguy @cooldan @itsmikesantos
LIKE/FAVORITE and SHARE for new meals every week!
Reese's Peanut Butter Cheesecake Donut – Handle It