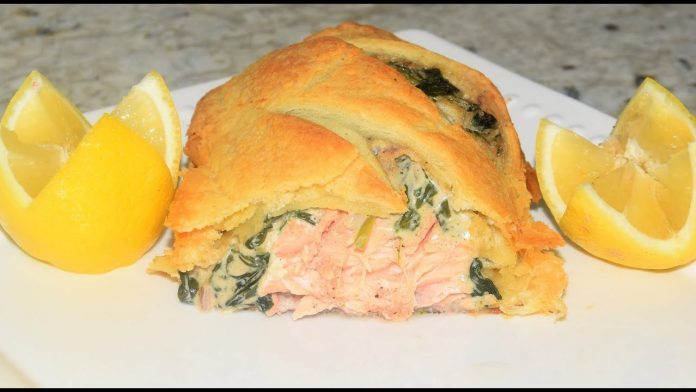 This Salmon Wellington Recipe (aka salmon en croute) takes Salmon to another level. It is not only easy to make but super tasty. If you are looking to wow someone, give this easy Salmon Recipe a try.
Ingredients for Salmon Wellington – Salmon en croute
* Two 4 Ounce Salmon Fillets
* 2 Sheets of Puff Pastry
* 16 Ounces Fresh Spinach (Frozen would work also)
* 4 Chopped Garlic
* 1/2 medium Onion Chopped
* 1/2 Stick Butter (for onions garlic and spinach)
* Melted Butter (to brush on puff pastry before baking)
* Salt, pepper, oregano to taste
Cook Time and Temperature: 425 degrees for 25 to 30 minutes
Subscribe:
Facebook:
Twitter:
Google+:
Video URL:
Salmon Wellington Recipe – Salmon en croute – Puff Pastry Salmon
Disclaimer: This video and description contains amazon affiliate links, which means that if you click on one of the product links, I potentially can receive a small commission.