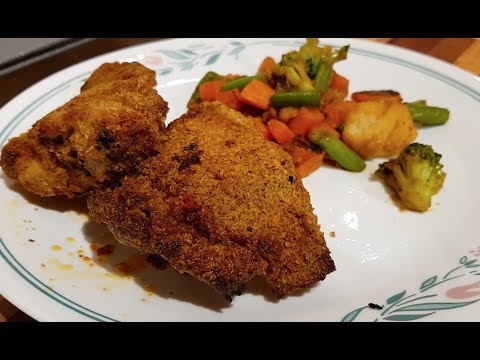 I found this recipe on lowcarbyum.com and knew I had to try it. I have several low carb recipes for fried or oven-baked chicken and chicken nuggets. I also have memories of loving Shake 'n Bake chicken when I was a kid. The simple ease of preparing it this way – so easy to coat the chicken and virtually no clean-up – combined with my childhood favourite meant I was sold right away. This was not only quick and easy but also SO delicious! You can use drumsticks or any mix of chicken pieces you like. I had chicken thighs on hand so that's what I used.
Prep Time 5 minutes | Cook Time 55 minutes | Total Time 1 hour
Ingredients
• 4 pounds (1.8 kg) chicken drumsticks or a mix of chicken pieces
• 1/2 cup (56 g) almond flour
• 2-1/2 teaspoon kosher salt
• 1/2 teaspoon ground pepper
• 2 teaspoons paprika
• 1 teaspoon cumin
• 1 teaspoon sage
• 1/2 teaspoon garlic powder
• 1/2 teaspoon onion powder
• olive oil
Instructions
1. Preheat oven to 450°F / 232°C (50°F / 20°C lower for fan-forced).
2. In large zipper storage bag, combine all ingredients except chicken and oil.
3. Line two 13×9-inch pans with aluminium foil for easy clean-up.
4. Drizzle olive oil over each pan.
5. Place a couple pieces of chicken in the seasoning bag and shake until coated.
6. Place coated chicken on lined pans.
7. Bake, uncovered, for 30 minutes. Turn pieces over and bake 15-20 minutes longer.
Recipe Notes
Other suitable spices are thyme, marjoram, and rosemary. Makes 8 servings (2 drumsticks each) with 1.3g net carbs per serve.
Nutrition:
Amount per serving (2 drumsticks) 359 calories, 21g total fat, 5g saturated fat, 3g polyunsaturated fat, 9g monounsaturated fat, 180mg cholesterol, 771mg sodium, 20mg potassium, 2g total carbohydrates, 1g dietary fibre, 36g protein.