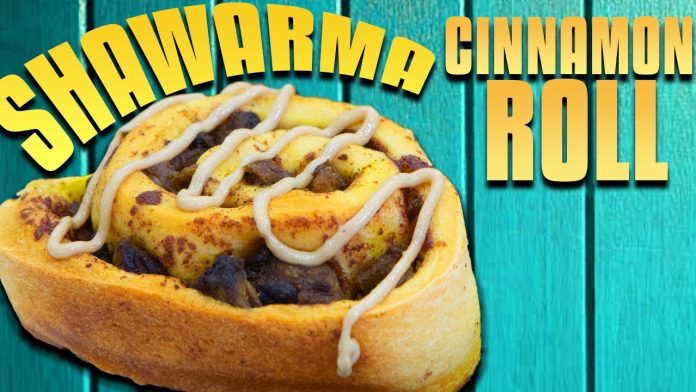 This week Chef Atari teaches you how to make a Shawarma Cinnamon Roll. Tatste delicious!!
Ingredients
Seasoning
1 Tbsp Cumin
1 Tbsp Corriander
1 Tbsp Garlic powder
1 Tbsp Paprika
1 Tsp Tumeric
1 Tsp Cayenne pepper
1 Tsp Cloves
1 Tsp Cinnamon
Salt and pepper
Marinade
1 Red onion cut into slivers
1/2 Cup vegetable oil
1/2 Cup vinegar
4 Tbsp minced garlic
Tahini frosting
4 Tbsp of room temperature butter
1/3 Cup of Tahini
1/4 Cup of powdered sugar
1 Tsp of salt
1 Flank steak
2 Tubes of cinnamon dough
Step 1
Cover Flank steak in plastic wrap and flatten with a kitchen mallet until thin.
Step 2
Mix together 1 Tbsp Cumin, 1 Tbsp Corriander, 1 Tbsp Garlic powder, 1 Tbsp Paprika, 1 Tsp Tumeric,1 Tsp Cayenne pepper, 1 Tsp Cloves, 1 Tsp Cinnamon, Salt and pepper. Rub The spices against the steak on each side to season properly and set aside. Be sure to save any left over seasoning.
Step 3
In a bowl mix together 1 Red onion slivers, 1/2 Cup vegetable oil, 1/2 Cup vinegar, and 4 Tbsp minced garlic. Add seasoned steak to the marinade and refrigerate for 30 minutes.
Step 4
Once the steak has marinated rub any left over dry rub on to the steak and cook in a frying pan or BBQ for six minutes each side. After the steak has cooked cut into thin strips against the grain of the meat.
Step 5
Unroll cinnamon roll dough and line with sliced steak then re roll and bake in the oven.
Step 6 frosting
Mix together 4 Tbsp"s of room temperature butter, 1/3 Cup of Tahini, 1/4 Cup of powdered sugar and 1 Tsp of salt then refrigerate until ready to use.
Step 7
Once rolls are baked let cool and garnish with Tahini frosting.
Check out our new Jerky available in Walmart across the USA!
Check out Harley's Video Diaries –
We have a YouTubeGaming Channel:
Follow the guys!
@harleyplays @chefatari @epicgrossguy @cooldan @itsmikesantos
LIKE/FAVORITE and SHARE for new meals every week!
Shawarma Cinnamon Roll – Handle it