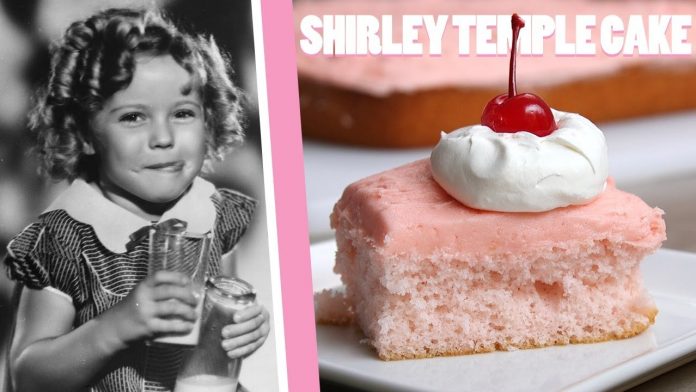 It's quick, easy, and is basically fool-proof! Make this for birthdays, parties, family gatherings…or basically, anytime you're craving cake. Let us know what you think! Is this a cake you crave, or do you prefer the classic drink?
—————————————————————————————————————-
How To Make A Shirley Temple Cake
Ingredients: White cake mix 1 1/4 cup, Cherry 7-up, 1/3 cup vegetable oil, 4 egg whites, 4 cups powdered sugar, 1/3 cup maraschino cherry juice, 1 teaspoon vanilla, 1 1/2 sticks (3/4 cup) cold butter.
Directions: Preheat your oven to 350 degrees. In a large bowl combine the cake mix, vegetable oil and Cherry 7-Up. Pour mixture into a greased 9×13 baking dish. Bake for 32 minutes or until a toothpick comes out clean when inserted into cake. Remove cake once it's finished baking and let cool before adding frosting.
To make the frosting combine the powdered sugar, cherry juice and vanilla in a large bowl. Cut the butter into chunks and add a little at a time. Beat for about 3 minutes until the butter is fully incorporated and the mixture is fluffy. Frost the cake and garnish with whipped cream and cherries.
Enjoy!