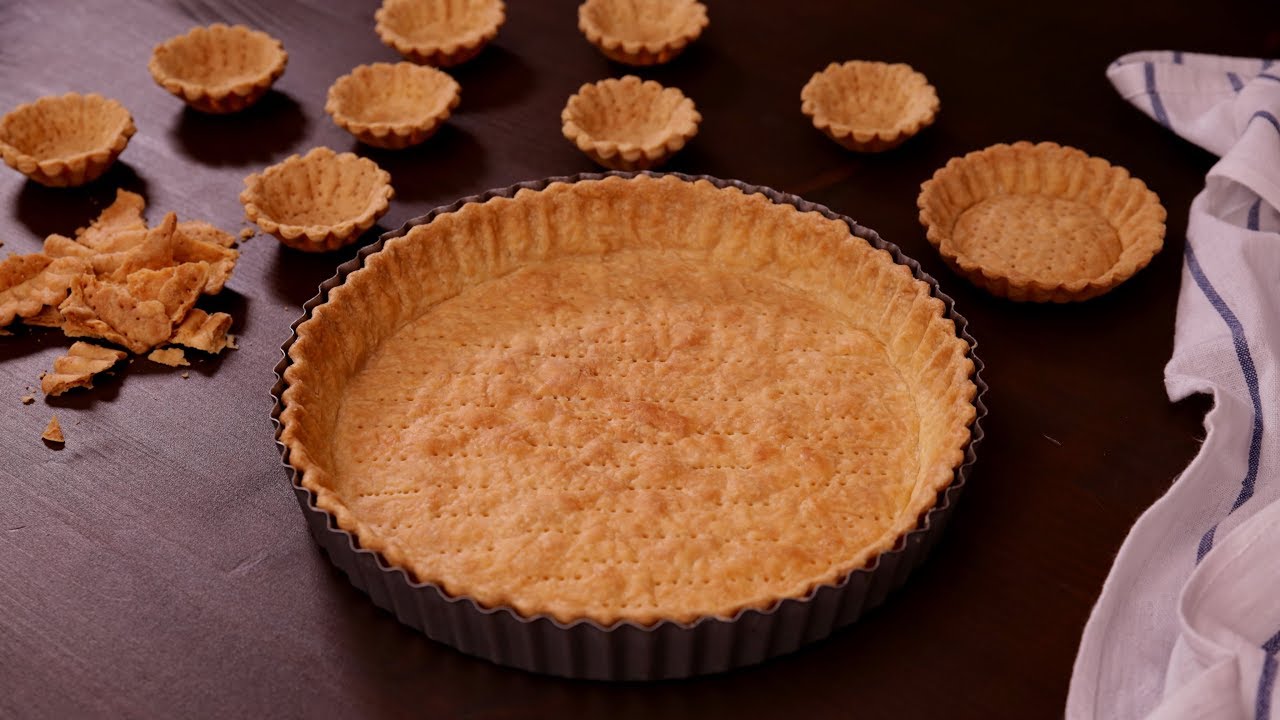 This tart shell recipe produces a buttery flavoured pastry with a crisp and flaky texture. Use it as a base for your favourite tart recipes, both sweet and savoury.
Ingredients and method:
• 260g – 2cups all purpose flour
• 125g – 9TBSP. butter, cubed and chilled
• 45ml – 3TBSP. water, cold
• a pinch of salt
• an egg yolk, cold
• 12g – 1TBSP. granulated white sugar (optional)
Sift the flour into a mixing bowl. Add the butter and rub it between your fingertips until the mixture resembles fine breadcrumbs.
Sprinkle the water evenly over the flour mixture. Add the salt, egg yolk and sugar.
Using one hand, gather the dough together to form a ball. Transfer to a hard working surface (counter or large chopping board) and flatten into a disk with smooth edges. Wrap the dough in plastic and chill for two hours before using.
Place a large piece of plastic wrap on your work surface and put, right in the middle, the chilled dough. Cover with another piece of plastic wrap. Using your rolling pin, bash the dough to soften it slightly. Roll out the pastry to a thickness of 3mm – ⅛in and to a round about 5cm – 2in larger than a 23cm – 9in tart pan.
Remove the top plastic wrap, lift the pastry and let it settle easily into the tart pan. Lift the outside edge of the pastry and gently ease it into the base and sides of the pan. Press your hands over the top of the pan to cut off the excess dough. Remove the plastic wrap and prick the base with a fork, to stop it rising up during baking.
Cover the tart shell with plastic wrap and freeze for half an hour. This will prevent the shell from shrinking during baking.
Preheat the oven to 180°C – 350°F, and place the oven rack in the center of the oven.
Cut out a round of parchment paper 8cm – 3in larger than the tart pan. Remove the pastry shell from the freezer and lay the parchment paper over it. Add baking beans or rice, spreading them out evenly to cover the base.
Bake at 180°C – 350°F for 15 minutes, remove parchment paper and pie weights, bake for 15 minutes more, or until golden brown.
INSTRAGRAM:
TWITTER:
FACEBOOK:
S Strong & Boogie Belgique – Noir by S Strong
Creative Commons — Attribution 3.0 Unported— CC BY 3.0
…
Music promoted by Audio Library