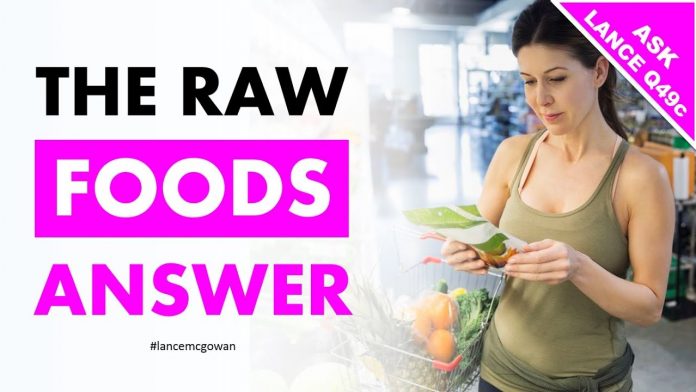 WATCH MY PREVIOUS VIDEO ►
WATCH MY NEXT VIDEO ►
———————————————————–
FREE DETOX SYSTEM FOR MOMS ►
———————————————————–
Question 49c:
Jocelyne G. from Park City, Utah asks, "I like to think that I eat fairly healthy as it is, but I am still not seeing the progress that I'd like to. I've done a little research and found that it could be the fact that I'm cooking all of my veggies, and still eating a lot of packaged foods. There seems to not be a clear answer on whether going raw is a fad, or if it is legitimate, could you clarify?"
Short Answer:
While burning fat isn't the primary goal of this diet, you're also likely to feel full when eating lots of raw foods from consuming plenty of fiber and nutrients, so this can help you curb cravings and eat less overall if that's one of your goals.
Note: Make sure to watch parts 1 and 2 so you can get all the ins and outs of a raw foods diet plan and if it can help you long term.
———————————————————–
▼ NEXT STEPS▼
==============
SUBSCRIBE ►
SHARE ► This video with someone that would benefit from it
COMMENT ► On what you liked most about this video!
———————————————————–
▼ SEARCH ▼
===========
#lancemcgowan #nsfm #rawfood #rawfoods on youtube for more videos!
———————————————————–
▼ BUSINESS INQUIRIES▼
=====================
Email me at support@naturalsolutionsformoms.com or message me on YouTube for a faster response
———————————————————–
FREE DETOX SYSTEM FOR MOMS ►
———————————————————–
Disclaimer: The information contained on the Lance McGowan YouTube channel and videos are provided for general and educational purposes only and do not constitute any legal, medical or other professional advice on any subject matter. These statements have not been evaluated by the FDA and are not intended to diagnose, treat or cure any disease. Always seek the advice of your physician or other qualified health professional prior to starting any new diet or treatment and with any questions you may have regarding a medical condition. If you have or suspect that you have a medical problem, promptly contact your health care provider.