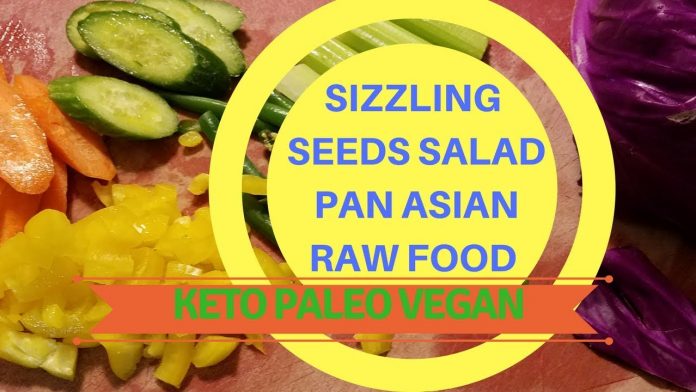 Ingredients below! This Pan Asian Fusion taste explosion (beyond sizzling!), one of our daily salads, is a recipe base for many other versions. Starring: Bell pepper, carrot, cucumber, celery, green beans, red cabbage (all in bite sized pieces), #Kirkland spring mix leaves, crisp revived green lettuce (see other video), garlic (two toes here), ginger, and Indian spices (turmeric, coriander). Fits a: Vegan (and vegetarian), Paleo, Keto, Low Carb, Alkaline, Raw Food (take fried seeds out) Diet. Not Whole 30, the Tempura has Soy. We are telling you to get a Salad Spinner! See around 2:30. Link below. Always Making Something. Improv Cooking no Recipe. Please comment for next dishes or tips.
FACEBOOK:
INSTAGRAM:
TWEET ME:
MY YOUTUBE CHANNEL
BUSINESS INQUIRIES: See About Section
•••••••••••••••••••••••••••••••••••••
PLEASE SUBSCRIBE, SHARE AND LIKE!!
•••••••••••••••••••••••••••••••••••••
Although we link to Manufacturers or Stores, there is no incentive from them. Just happy with their products.
Always Making Something
AlwaysMakingSomething
Always Makensomtin
AlwaysMakensomtin
Makensomtin
Allmakesomtin
Improvcook
Improv Cook
Improv Diet
Improv Kitchen
Omniapplicable
What the Vedge
WhattheVedge
Cookies
Amsters
Recipes
Recipisch
OmniApplicable
NoRecipe
Vegetarian
Simple Vegetarian
Vegetarian Breakfast
Vegetarian Lunch
Vegetarian Brunch
Vegetarian Dinner
Vegeterian Meal
Vegetarisch
Vegan
Simple Vegan
Vegan Breakfast
Vegan Lunch
Vegan Brunch
Vegan Dinner
Vegan Meal
Veganistisch
GoMakeIt
Go Make It
How To
How do I
What is the
AMS
Delish
Daily Salad
Keto
Paleo
Low Carb
Alkaline
Raw Food
#AlwaysMakingSomething
#AlwaysMakensomtin
#Allmakesomtin
#Improvcook
#ImprovDiet
#ImprovKitchen
#Omniapplicable
#WhattheVedge
#Cookies
#Amsters
#Recipes
#NoRecipe
#Recipisch
#Vegetarian
#SimpleVegetarian
#VegetarianBreakfast
#VegetarianLunch
#VegetarianBrunch
#VegetarianDinner
#VegetarianMeal
#Vegetarisch
#Vegan
#SimpleVegan
#VeganBreakfast
#VeganLunch
#VeganBrunch
#VeganDinner
#Veganmeal
#Veganistisch
#GoMakeIt
#AMS
#OmniApplicable
#Delish
#GoMakeIt
#HowTo
#HowdoI
#Whatisthe
#DailySalad
#Keto
#Paleo
#LowCarb
#Alkaline
#RawFood
SIZZLING! SEEDS SALAD PAN ASIAN BRIGHT COLORS ADD LEAVES RAW FOOD GARLIC GINGER KETO PALEO VEGAN