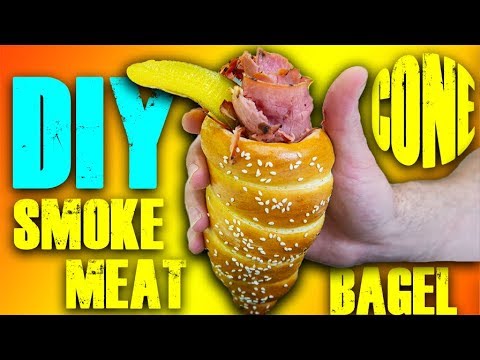 This Chef Atari shows you how to make this incredible smoke meat bagel cone.
Ingredients
2 to 3 Pack's of prepared smoked meat
4 Sliced pickles
Sesame seeds
Mustard
1 Egg
Dough
2 Tsp's of yeast
1/4 Cup of warm water
2 eggs
2/3 cup of warm milk
4 Tbsp's of melted butter
4 cups of flour
2 Tbsp's of sugar
1 Tsp of salt
Tools
1 Chef knife
1 Cutting board
2 Small sauce pans
1 Mixing bowl
4 Pieces of standard paper
Aluminum foil
1 Oven tray
Parchment paper
Step 1
Add 2 Tsp's of yeast to 1/4 cup of warm water and let activate for 10 minutes. Add 2 eggs, 2/3 cup of warm milk, 4 Tbsp's of melted butter, 4 cups of flour, 2 Tbsp's of sugar and 1 Tsp of salt to the yeast mixture then mix well until a dough forms. Place the dough in a well oiled bowl then cover and let rise for 30 to 40 minutes.
Step 2
Make a cone with a piece of paper then roll that cone on a sheet of aluminum covering the paper completely then fold the edges of aluminum to the paper securing it in place.
Step 3
Flour a surface and knead the dough then cut it into 6 equal pieces. Roll the dough between your hands until the dough forms a rope, continue to form the dough until it's 30 inches in length.
Step 4
Wrap the dough around the aluminum cone leaving no gaps. Brush on egg wash and sprinkle sesame seed's. Bake in the oven at 400 degrees Fahrenheit for 20 minutes until golden brown. Let cool when done.
Step 5
Warm smoked meat pouches in boiling water for 5 to 8 minutes.
Step 6
Roll smoked meat tightly then stuff in bagel cone and add a pickle. Serve with mustard.
Check out our new Jerky available in Walmart across the USA!
@harleyplays @chefatari @epicgrossguy @cooldan @itsmikesantos
LIKE/FAVORITE and SHARE for new meals every week!
Smoke Meat Bagel Cone – Handle It