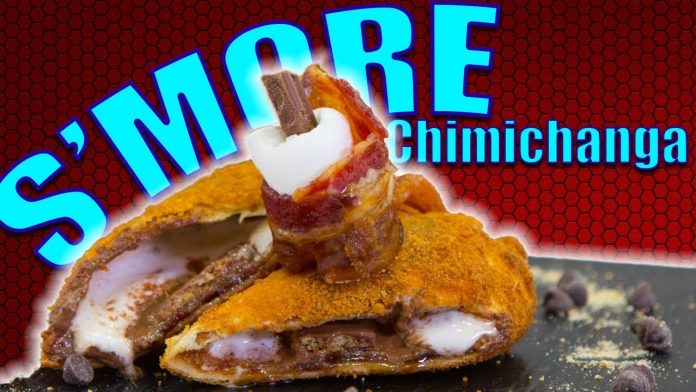 This week Dan teaches you how to make a S'more Chimichanga.
Check out our new Jerky available in Walmart across the USA!
Ingredients
1 Pack of bacon
1 Cup of brown sugar
2 Tbsp cinnamon
3 to 4 Tortillias
1 Package of graham crackers
2 Hershey chocolate bars
1 Package of large marshmallow
2 Cups of flour
2 Cups of graham cracker crus
3 Eggs
Oil for deep fry
Tools
1 Oven tray
Parchment paper
1 Frying pan
1 Large pot
1 Pair of metal tongs
1 Knife
1 Cutting board
Step 1
Lay bacon strips on a tray lined with parchment paper and cover with brown sugar and cinnamon. Bake in the oven at 375 degrees Fahrenheit for 20 minutes.
Step 2
Lay down tortilla shell then place candy bacon strips, graham crackers, Hershey chocolate, marshmallows and top with graham cracker then fold the burrito closed.
Step 3
Seal the burrito shut with egg wash then sear it in a well oiled pan on medium heat.
Step 4
Cover the burrito in flour then dip it in egg and coat in graham cracker crust. Heat oil to 350 degrees Fahrenheit and deep fry burrito for 1 to 2 minutes until golden brown.
Check out Harley's Video Diaries –
#YoutubeCooking #Cooking #Food #Recipes
We have a YouTubeGaming Channel:
Follow the guys!
@harleyplays @chefatari @epicgrossguy @cooldan @itsmikesantos
LIKE/FAVORITE and SHARE for new meals every week!
S'more Chimichanga – Handle It