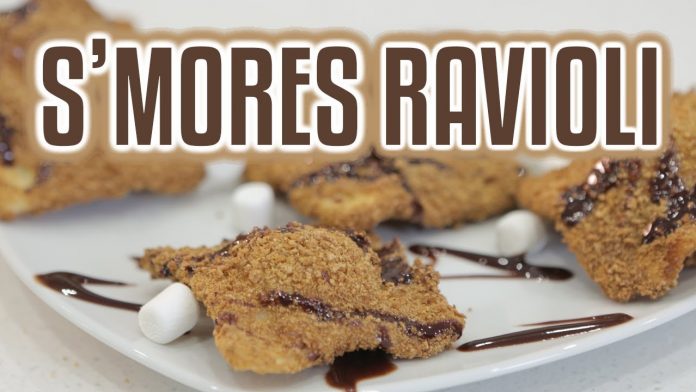 Ameer teaches you how to make S'Mores Ravioli! A perfect dessert snack for the holidays!
Ingredients
Dough
4 Eggs
3 Cups of flour
1 Tsp of salt
2 Eggs
12 Medium sized marshmallows
1 Package of golden Grahams
Vegetable Oil for deep fry
1 Container of chocolate sauce
Dredging station
4 Eggs
2 Cups of flour
Tools
2 Mixing bowls
1 Rolling pin
1 Metal slotted spoon
2 Large pots
Parchment paper
1 Oven tray
1 Fork
1 Chef knife
1 Cutting board
3 small mixing bowls
1 Food processor
Step 1
In a mixing bowl add 4 eggs then slowly add 3 Cups of flour and 1 Tsp of salt begin to mix ingredients until a dough forms.
Step 2
Cut the dough In half then flour a surface and roll out the dough until paper thin. Then egg-wash the dough and place marshmallows about 2 inches apart from each other. Roll out the other piece of dough and place on top then form the raviolis and cut into squares and seal them up. Use a fork to crimp the raviolis.
Step 3
Bring a large pot of water to a boil then cook raviolis for 10 to 15 minutes. Once cooked place on a tray with parchment paper. Chef tip****** the raviolis are Cooked when they begin to float.
Step 4
Use a food processor to Blend up golden Grahams into a fine dust.
Step 5
Prepare a dredging station with 3 eggs, 2 cups of flour and golden graham dust. Begin by coating the raviolis in flour then dip into egg-wash and coat with golden graham dust.
Step 6
Heat oil to 350 degrees Fahrenheit and deep fry ravioli.
Step 7
Garnish with chocolate sauce and serve.
Check out Harley's Video Diaries –
We have a #YouTubeGaming Channel:
Follow the guys!
@harleyplays @chefatari @epicgrossguy @cooldan @itsmikesantos
LIKE/FAVORITE and SHARE for new meals every week!
S'mores Ravioli – Handle It