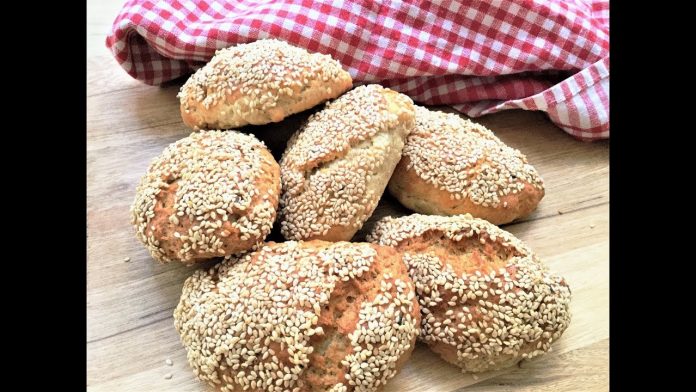 Turkish food, Turkish food recipes, Turkish food channel,
Turkish food at home
SO EASY, NO YEAST 'POGACA' RECIPE l Turkish Savory Pastry
Music: Hala Lala Layya – Lebanese folk song
Arrangement and piano: Elvan A. ULUCINAR
In this episode, I'd like to share with you a very easy Poğaça (Poe-ah-cha) recipe. It is ideal for breakfast or as tea-time snack, so yummy and soft. I use Turkish white cheese and parsley for the filling, but feel free to use mashed potato or sauteed ground meat as well.
To stay tuned upcoming videos SUBSCRIBE here:
You can support my Channel with Patreon:
INGREDIENTS
2 cups flour
1 cup thick yogurt
1/2 cup olive oil
1 pack (1 tbsp) baking powder
1/2 tsp baking soda
1/2 tsp salt
1 heaping teaspoon powdered sugar
1 egg yolk
Sesame seeds
DIRECTIONS
For the filling: Combine 4-5 slices of crumbled white cheese and a handful chopped parsley, in a bowl.
Sprinkle a pinch of black pepper, add salt if needed.
For the dough: Sift 2 cups flour into a bowl.
Sift baking soda, baking powder, salt and powdered sugar on top.
Mix well.
Add 1 cup thick yogurt.
Add 1/2 cup olive oil.
Mix with a spoon.
Using your hands, pull together ingredients.
Then knead well for about 5 minutes, it should be a soft and only slightly sticky dough.
Cover and refrigerate for 30 minutes.
Line a baking sheet with parchment paper and preheat oven to 200 C. (392 F)
Divide dough into 8 pieces and roll each piece into a ball.
Using your hands, flatten one ball.
Place 1 heaping teaspoon filling in the center and fold over to make a half moon shape.
Pinch edges to seal well.
Place on baking sheet, repeat with the remaining balls.
This recipe makes 8 pogaca, so you may want to double the ingredients of the dough.
Combine egg yolk with 1-2 tbsp water, beat.
Brush the top of pogacas with egg wash.
Then dip top of pogacas into sesame seeds and place back on sheet, seed side up.
Bake for 17-18 minutes or until they get golden.
Let cool completely on a wire rack before serving.
And enjoy, they taste amazing!
If you enjoyed the video please subscribe to my channel, leave a like and share your comments below for more recipes.