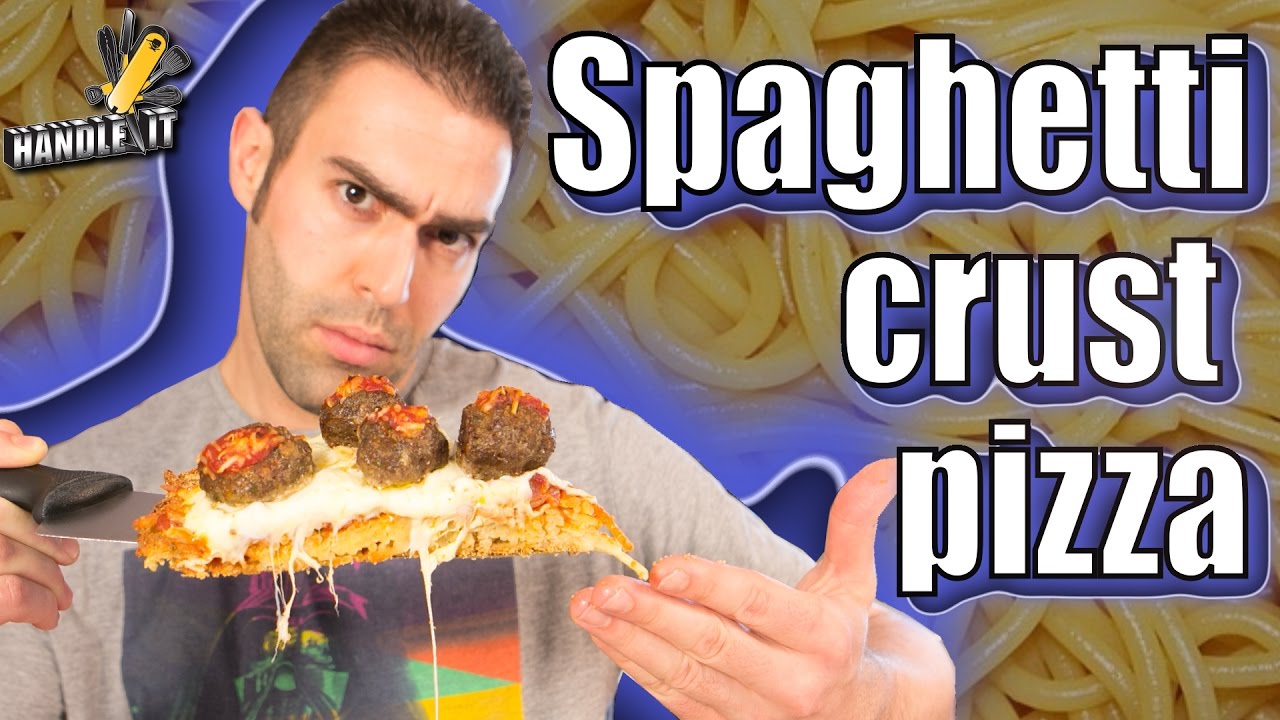 This week Ameer makes a crazy meal! Spaghetti Crust Pizza, it's double Italian fusion!
Ingredients
Meatballs
1/2 LB ground beef
1 Egg
1/4 Cup bread crumbs
2 Tbsp Italian seasoning
Crust
1/2 Package of spaghetti noodle
1/4 Cup flour
1/4 Cup breadcrumbs
1/4 Shredded Parmesan cheese
1 Egg
1 Pack of bacon
1/2 Can of pizza sauce
1 Cup of mozzarella cheese
1/4 Cup Parmesan cheese
Tools
1 Chef knife
1 Cutting board
1 Large pot
1 Pizza tray
2 Mixing bowls
1 Frying pan
1 Wooden spoon/Slotted spoon
1 Oven tray
Parchment paper
Step 1
In a mixing bowl, mix 1/2 LB ground beef, 1 egg, 1/4 cup bread crumbs and 2 Tbsp Italian seasoning mix well and begin to form meatballs, then bake in the oven at 375 for 15 to 20 minutes.
Step 2
Bring a large pot of water to a boil and break spaghetti noodles in half and begin to cook them for 10 minutes until tender. Cook half the bag of spaghetti.
Step 3
Cut bacon into bits and cook in a frying pan on medium heat for 10 minutes until crispy.
Step 4
In a mixing bowl mix together spaghetti noodles, 1/4 cup flour, 1/4 cup breadcrumbs, 1/4 cup Parmesan cheese and 1 egg. Line a tray pizza tray with parchment paper and sprinkle some breadcrumbs covering the base then spread the spaghetti to about 1 inch thick covering the whole tray and bake in the oven at 375 degrees Fahrenheit for 30 to 40 minutes.
Step 5
Once the crust is baked Dress with pizza sauce, bacon bits, mozzarella cheese, meatballs and Parmesan then bake in the oven to melt the cheese for 5 to 10 minutes.
Check out Harley's Video Diaries –
We have a #YouTubeGaming Channel:
Follow the guys!
@harleyplays @princewallick @lemme_kno @epicgrossguy @cooldan @santos_mtl
LIKE/FAVORITE and SHARE for new meals every week!
And order the COOKBOOK from any of these links:
Amazon: …
B&N: -…
BAM: …
iBooks: …
Need tools to cook with? Order the cooking arsenal:
Spaghetti Crust Pizza – Handle It