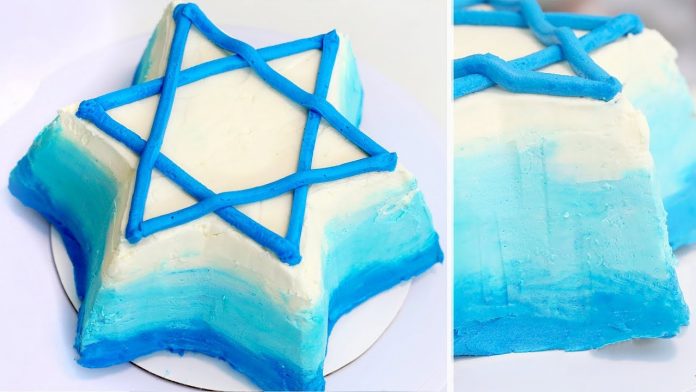 A beautiful Star of David cake for Hanukkah! We're using Nordic Ware's intricate Star of David cake pan and some blue ombre buttercream! RECIPE + GIVEAWAY INFO BELOW!
Star of David Cake
Ingredients
Cake Batter:
1 cup unsalted butter, room temperature
2 cups sugar
3 tsp vanilla extract
6 large eggs
3 cups all-purpose flour + extra for the pan
1 tsp baking soda
1 tsp salt
1 1/2 cups sour cream
cooking spray (for greasing the pan)
Buttercream:
2 cups unsalted butter, room temperature
1 tsp vanilla extract or seeds from 1 vanilla bean
5 cups confectioner's sugar
blue food coloring
Directions
Bake the cake:
1. Beat the butter and sugar with an electric mixer until pale and smooth. Add the vanilla extract and eggs one at a time, mixing with each addition.
2. In a separate bowl, combine the flour, baking soda and salt. Add this to the batter in 2 additions, alternating with the sour cream.
3. Spoon the batter into a greased and floured Star of David cake pan. Bake at 350F for 40-50 minutes, or until a skewer inserted into the centers comes out clean. Cool completely.
Make the buttercream:
1. Beat the butter with an electric mixer until pale and fluffy. Add the vanilla extract and confectioner's sugar one cup at a time, beating with each addition.
2. Divide the buttercream into 3 bowls. Dye one bowl dark blue, one bowl light blue and leave the remaining bowl white. Place about 1/3 of the dark blue buttercream into a piping bag fitted with a medium-sized round piping tip.
Assembly:
1. Slice off the base of the cake to make it level.
2. Spread a generous layer of white buttercream onto the top of the cake, as well as the top 1/3 of the sides. Spread the dark blue buttercream along the bottom 1/3 of the cake and the light blue buttercream around the middle of the cake. This doesn't need to be smooth.
3. Use a knife or long spatula to smooth the sides of the cake, creating an ombre effect.
4. Smooth out the top edges of the cake, then pipe a Star of David with the dark blue buttercream in the piping bag. Enjoy!
PRODUCTS MENTIONED:
Star of David cake pan:
Knife/spatula for blending the colors:
Blue food coloring:
Cake board:
Rotating cake stand:
Piping bags:
GIVEAWAY DETAILS
There will be a giveaway in EVERY. SINGLE. VIDEO. in December, from December 5-26! Tune in every day and don't miss out!
A specific detail to enter the giveaway will be included in each video, so you need to watch the ENTIRE video to be eligible!
To enter the BONUS giveaways, join the pankobunny Facebook group!
TODAY'S GIVEAWAY
PRIZE:
– Betsey Johnson Croissant Purse:
– Kate Spade Pretzel Necklace:
– 1 box of pankobunny truffles (4 pieces)
– Unicorn Food cookbook (MY COOKBOOK! )
– pankobunny tote bag (CHECK IT OUT! )
ELIGIBILITY:
– must be subscribed to this channel
– giveaway is international – I'll ship it anywhere!
– if you are under 18, you must have your parent/guardian's permission to enter, as I will need your mailing address
HOW TO ENTER:
– comment on this video and tell me one change you'd like to see on my channel!
– include the secret emoji mentioned in the video, or type it in brackets in the comments, if you're unable to type an emoji
– you can comment AS MANY TIMES AS YOU LIKE!
– giveaway closes on 11:59 am EST on 12/27/2018, when I'll do a live stream to announce the winners. You can enter as often as you like until then.
DID YOU MISS YESTERDAY'S GIVEAWAY? ENTER HERE:
GOOD LUCK AND HAPPY HOLIDAYS, MY LOVELIES!! xx
Facebook: www.facebook.com/pankobunnycooking
Twitter:
Instagram:
Pinterest:
Blog:
Subscribe to my Channel!
New videos every single day! Make sure you tune in!
As always, thank you!!
xx
Cayla
For all of you who are amazing and have read this far, here is a clue for Wednesday's video: dog cookies!
Music courtesy of Audio Network.
Song: Salad Days
This is not a sponsored video.