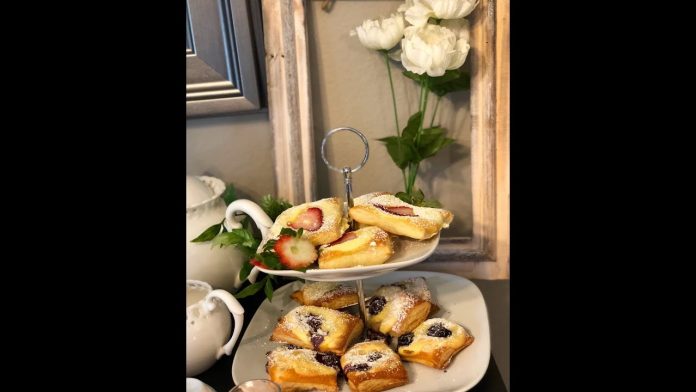 Thank you so much for watching. Please subscribe to my channel. Like this video and share it.
Ingredients:
1 Puff Pastry Sheet.
2 oz Cream Cheese.
1 tbsp Sour Cream.
3 tbsp Sugar.
1 Egg Yolk.
1 tsp Lemon Zest.
1 Egg.
Powdered Sugar.
Fresh Strawberries.
Fresh Blueberries.
Recipe:
Though the pastry dough according to the package. I use store bough puff pastry dough. Make sure all the ingredients are room temperature.
In a bowl add cream cheese, sour cream, egg yolk, sugar. Mix everything until its smooth. To make egg wash- Beat one egg and add water in it. Mix it well.
Roll out the puff pastry. Cut into square pieces. Using a knife make cuts. Brush the egg wash on the edges. Add cream cheese mixture in the middle and add fresh fruit.
Pre heat the oven to 400 degrees. Bake for 20 minutes. Once its ready sprinkle powdered sugar. Enjoy.
Follow Me:
Follow Me:
www.
Follow Me:
Follow Me:
www.
Follow Me:
www.
Disclaimer: This video is not sponsored.