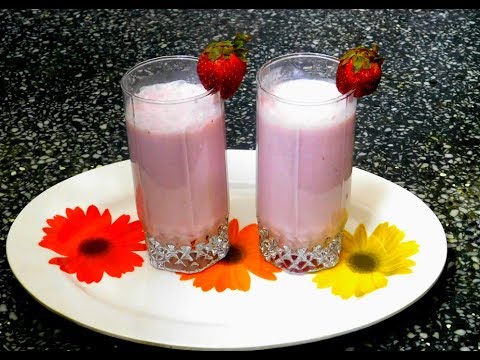 Strawberry Milk beverage or strawberry Milk shake is very delicious and refreshing recipe . In this recipe I have shown very easy way of making Strawberry milk beverage or Strawberry Milkshake .
Strawberry milk beverage or strawberry Milk shake is full of Vitamins , Fiber , Antioxidants such as polyphenols, , Strawberry have Zero cholesterol .
Strawberry help to improve eye sight , improve brain function , help to Boost Immunity , help to treat Arthritis and Gout , Prevent Cancer . Reduce Hypertension , improve heart function , help in weight loss.
———————————————————————————————————–
स्ट्राबेरी दूध पेय या स्ट्रॉबेरी दूध शेक बहुत स्वादिष्ट नुस्खा है। इस नुस्खा में मैंने स्ट्रॉबेरी मिल्कशेक बनाने का बहुत आसान तरीका दिखाया है। स्ट्रॉबेरी दूध शेक विटामिन, फाइबर, एंटीऑक्सिडेंट जैसे कि पॉलीफेनोल से भरा होता है, स्ट्राबेरी में शून्य कोलेस्ट्रॉल होता है। स्ट्राबेरी नेत्र दृष्टि में सुधार करता है , मस्तिष्क समारोह में सुधार करता है , प्रतिरक्षा को बढ़ावा देने में सहायता करता है , गठिया का इलाज करने में मदद करता है , कैंसर को रोकना में मदद करता है , उच्च रक्तचाप कम करता है , हृदय समारोह में सुधार करता है , वजन घटाने में मदद करता है ।
Ingredients of Strawberry Milk Beverage –
Strawberry – 5 to 6
Sugar – – 5 tea spoon
Milk – 1 and 1/2 glass
Vanilla esence – 2 drop
Vanilla Ice cream -2 tea spoon
Strawberry Crush – 2 table spoon
———————————————————————————————————–
Our's other recipes –
1. Strawberry Crush –
www.youtube.com/watch?v=qND_zC67sBU
2.. Egg Matar Curry –
www.youtube.com/watch?v=AAqZU1gnIrI
3. Gobi Sim Ka Achar –
www.youtube.com/watch?v=2dBTbroH7bU
———————————————————————————————————–
Follow us on Facebook –
www.facebook.com/anitaskitchen67
Follow us on twitter –
twitter.com/anitaskitchen67
Follow us on Instagram –
www.instagram.com/anitaskitchen67
| Thanks for Watching |