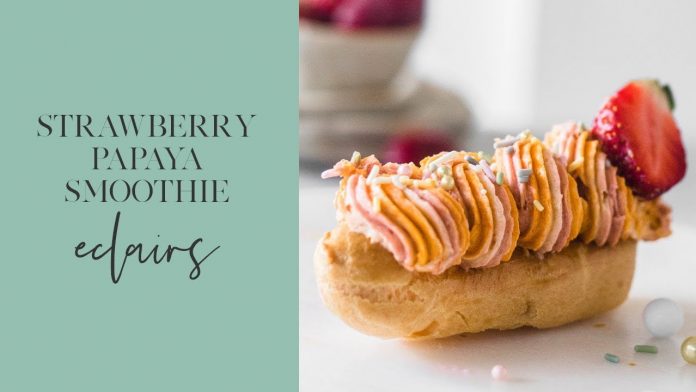 These strawberry papaya smoothie eclairs are extremely fruity and delicious. It combines the goodness of berries and papaya to create a flavour right out of the tropics! You may be on the fence about the flavour combination, but believe me, it works wonders! The choux pastry recipe is used to pipe 10 cm eclairs which are filled with instant strawberry custard and topped with a decadent strawberry papaya buttercream frosting using the Wilton 6B tip.
I've used the ombre buttercream frosting technique using a cling wrap.
Find the full printable recipe on my website:
Strawberry custard filling:
600 grams full fat milk
60 grams instant strawberry custard powder
30 grams caster sugar
Strawberry Papaya Buttercream frosting:
200 grams full fat milk
100 grams caster sugar
100 grams fresh ripe papaya, pureed
50 grams fresh strawberries, pureed
3 tablespoons (30 grams) all purpose flour
130 grams salted butter, room temperature
Choux Pastry:
169 grams water
85 grams salted butter
106 grams all purpose flour
3 eggs + extra for egg wash
1 teaspoon vanilla extract
Made this recipe? Don't forget to click a photo, tag me @thecupcakeconfession on Instagram and use #thecupcakeconfession. I'd love to feature you!
Find me on Instagram at:
and on Facebook at: