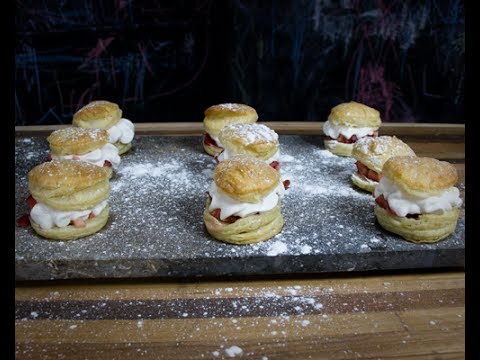 Here is the recipe. I didn't get a couple of the steps filmed, which is, of course, disappointing, but don't let it stop you from trying these. They're honestly one of the best things I've made. I've marked the parts in the recipe that were omitted from the video with an asterisk. Enjoy!
Recipe
Ingredients:
1 lb, 500 g strawberries
½ C, 100g sugar
2 t powdered gelatin (1 Packet)
Puff Pastry Dough (recipe coming soon)
1 ½ C, 375 ml Cream
1/2 C, 75g Powdered Sugar
Method:
*1. Remove strawberry leaves and cut strawberries into small pieces.
2. Put strawberries into a bowl, add the sugar, and stir.
3. Set aside 1 hour.
4. Drain liquid from strawberries, making sure to catch it in another bowl.
5. Add gelatin to the strawberry liquid and stir.
6. Set aside 10 minutes.
*7. Microwave about 20 seconds, just until the gelatin is melted. (Do not overheat; too much heat will damage the gelatin).
8. Beat cream to soft peaks, and beat in the strawberry liquid/gelatin mixture.
9. Chill 10-30 minutes.
10. Preheat oven to 425 F, 215 C.
11. Roll out puff pastry dough to about ¼ in, ½ cm thickness.
12. Cut out 2 ½ in, 6 cm circles.
13. Place circles on a baking sheet and bake at 425 F 215 C for 10 minutes.
14. Reduce oven temperature to 375 F, 190 C, and bake for another 10 minutes.
15. Cool pastry.
16. Pull pastries in half.
17. Distribute strawberries over bottom halves of the pastries.
18. Pipe/dollop cream mixture on top.
19. Add pastry lids.
20. Dust with powdered sugar if desired.
21. Enjoy!
Fig Leaf Rag by Kevin MacLeod is licensed under a Creative Commons Attribution license ()
Source:
Artist: