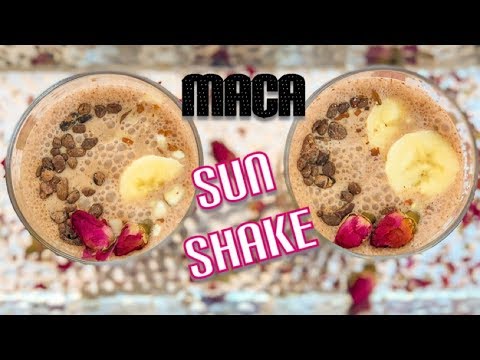 What is the opposite of MOON MILK?? A SUN SHAKE!!
It would mean so much if you SUBSCRIBED, liked, shared this video!
Please use #SUNSHAKE to get this trend going strong!!
What Is A Maca Sun Shake?
check out my blog for the full post and recipe:
This Sun Shake has the flavors of almond butter, chocolate, and butterscotch. What a delicious and satisfying flavor combo! As I mentioned, when using Maca, you definitely want to use ingredients that pair with that sweet butterscotch aroma.
A Sun Shake is chock full of raw super foods to give you a filling boost that helps you stay awake while also helping you fend off stress.
Below, you will find a short breakdown of all of the ingredients of this Sun Shake.
Maca
Before we get to making and shaking this Sun shake AKA Maca Smoothie, let's talk about Maca and how it relates to the famous Ashwaghanda.  Maca, like Ashwaghanda, is an adaptogen. Simply put, this means that Maca aids in balancing hormones and relieving stress and anxiety. Furthermore, Maca is said to increase stamina, boost your energy and virility, improve brain function, and more. So this is the perfect powder to add to smoothies and other morning recipes to help you wake up and get going.
Maca Powder has a butterscotch flavor and smell to it. There's also some sweetness and earthiness to the powder. So when you are using this in recipes, make sure that you use the powder with flavors that will enhance that flavor and aroma. I also like to pair Maca with other energizing and natural super foods like Raw Cacao Powder or Nibs.
As always, when you are starting any kind of new supplement, do your research. Ensure that you consult your doctor to make sure this is right for you!
Cacao
Raw Cacao is used to make cocoa powder and dark chocolate. This raw form of the chocolate we tend to enjoy is considered a superfood! Yes, the news we all want to hear about chocolate! Organic Raw Cacao powder  contains phytonutrients, which are beleived to enhance your mood as well as alertness. In raw form, cacao is the purest form of chocolate you can consume and it does not contain any sugar.  In addition, it is said to have the highest levels of antioxidants of all foods!
Raw Almond Butter
Raw Almond Butter has vitamins, minerals, and nutrients. It has the antioxidant benefit of Vitamin E. I love the taste of Almond Butter, and it's as easy to make your own as Peanut Butter! Many people have been switching from peanut butter to almond butter, so it makes a great addition of flavor and depth to this Maca Sun Shake.
Almond Milk
There has been a huge shift to nut milks as diets like plant-based, keto, and paleo have taken the world by storm. Almond Milk is one of the most popular milk alternatives. Almond milk is made from Almonds. It is low in sugar and calories, dairy-free, and has many vitamins such as Vitamin E.
Since Almond milk is made without the skins of almonds, it lacks fiber. Which brings me to the next ingredient of my Sun Shake.
Ground Flax Seeds
Ground Flaxseed is considered super nutritious and filled with Omega 3 fatty acid. It is rich in fiber, making it a great addition to this Sun Shake. Ground Flax seeds also have protein. For those who go with plant-based diets, it is important to get sources of plant based protein like ground flax seeds. Adding Ground Flax Seeds to a smoothie like this sun shake helps to fill you up as well.
Banana
Let's face it. You cannot have a smoothie of any kind without a banana! I mean it! Take it all away and replace it with whatever ingredient you want, but just leave that banana in there so it's actually a smoothie! Bananas are sweet, rich in potassium, fiber, and just plain fantastic!
Agave Nectar
Lastly, for this Sun shake you can use some Agave nectar. Since most of the previous ingredients lack sugar and thus sweetness, a small amount of agave nectar will add natural sweetness. Agave nectar is also a plant-based sweetener, so this sun shake remains vegan.
Please note, you can feel free to adapt this Sun shake to accommodate your flavor and diet desires!
Sun Shake ingredients: (makes 2)
1 1/4 cup almond milk
1 Tab. Ground Flax seeds
2 Tab. Raw Almond Butter
1 large banana
2 cups ice
2 tablespoons maca powder
2 tablespoons raw cacao nibs OR raw cacao powder
2-3 teaspoons raw agave for sweetness
How To Make
A Maca Sun Shake
Now that we have gone over what makes a sun shake, let's make one!
First, put some ice into a Blender or Vitamix.
Next, add some almond milk. Check the notes in the recipe box for alternatives.
Then add the rest of the ingredients, which include: a banana, maca powder, cocao powder (or nibs), agave, ground flax seeds, and raw almond butter.
Blend it up until it's in smoothie form, and enjoy!
Connect with me: