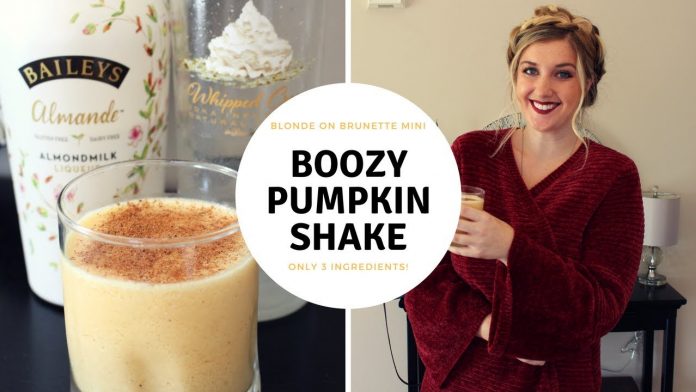 It's time for pumpkin pie, and I truly don't think there's anything better than mixing one of the greatest desserts of all time and a little bit of booze. Today, I'm making a super simple boozy pumpkin shake that'll help you get through these next few dark months. Don't just drink your calories, make sure it tastes amazing and will get you a little bussed, too!
I used Bailey's Almande and Smirnoff Whipped Cream Vodka for this super simple boozy pumpkin shake, but you could use regular bailey's as well.
Boozy Pumpkin Shake Recipe
1 oz. Bailey's Almande
1 oz. Whipped Cream Vodka
3-4 smallish scoops of pumpkin ice cream
1 cup of ice
Blend all ingredients together, getting the consistency you like with the added ice. Garnish with a cinnamon stick and some cinnamon or pumpkin spice.
SOCIAL MEDIA
Facebook:
Blog:
Instagram:
Twitter:
Pinterest:
Haven't had enough of us? Check us out here:
Jess
Twitter – @TheJessExpo
Instagram – @jesshooker_
Kaitlyn
Twitter – @kkopetski
Instagram – @kkopetski
Contact Info
contactbonb@gmail.com
Thanks for watching!