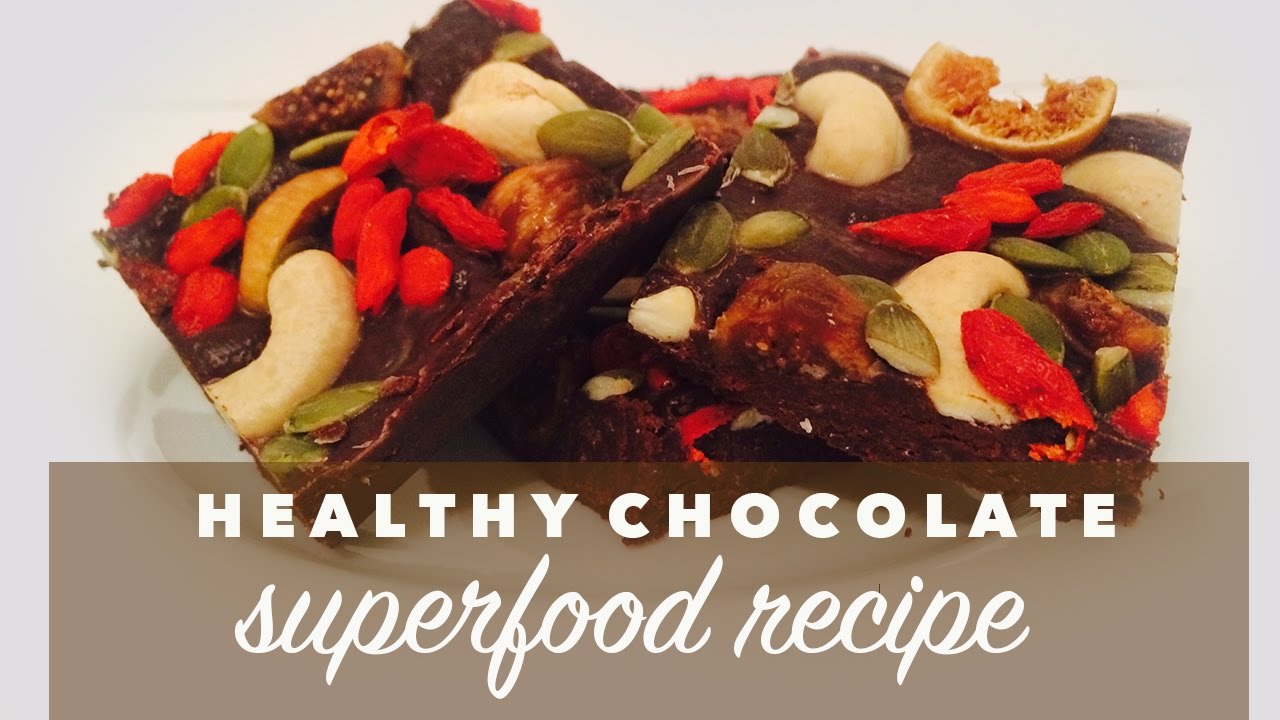 Superfood Chocolate Recipe | Healthy Vegan Chocolate Recipe Dairy, Soy, Gluten FREE **** Visit
In this video I share how to make a soft dark chocolate that is actually healthy – dairy, gluten, soy free with a ton of nutrients!
Music Intro Courtesy of Rob Hulson.
JENNIFER MAC BOOKS
The Right Blend: Blender-only Raw Food Recipes (black & white photos)
The Right Blend: Blender-only Raw Food Recipes (color photos)
Detox Delish: Your Guide to Clean Eating
MY FAVORITE TEES
"Shalom Ya'll" T-shirt
"RealMenEatKale®" T-Shirt
"Turn Up the Beat" T-Shirt
"I (Heart) Avocados" T-Shirt
"I (Heart) Kale" T-Shirt
+ …and more!
BLENDER USED
Vitamix 300 Series (the shorter/wider kind)
RECIPE
1/2 cup cashews, soaked 2 hours, drained and rinsed
3/4 cup raw cacao powered
3/4 cup cold-pressed coconut oil
OR
3/4 cup cacao butter
1/2 cup coconut nectar (or liquid sweetener)
1 teaspoon vanilla
1/8 teaspoon sea salt
DIRECTIONS:
FIRST: Liquefy coconut oil (or cacao butter). Note, using coconut oil has a lower melting point than cacao butter. If you use coconut oil, you'll need to keep this refrigerator before eating. Cacao butter will be shelf stable.
SECOND: Blend cashews, coconut oil, and liquid sweetener until smooth, scraping down the sides of the blender with a rubber spatula to get all the little cashew pieces. Add in vanilla and sea salt and blend again.
THIRD: Transfer mixture to a bowl and add the cacao powder. Stir until smooth.
FOURTH: Pour the mixture onto a pan or tray covered with wax paper.
FIFTH: Top with your favorite dried fruits, nuts, and seeds
The Jennifer Mac on Social Media:
YouTube –
Instagram –
Facebook-
Twitter-
Snapchat –
DISCLAIMER: Just a note that this video and description contain affiliate links, which means that if you click on one of the product links, I'll receive a small commission. This really helps out and allows me to continue to make videos like this. Thank you so much for the support!
About this video: Jennifer Mac shares who to make a Healthy Vegan Chocolate Recipe. This Superfood Chocolate Fudge Recipe is a healthy vegan chocolate fudge recipe, healthy vegan chocolate recipes, healthy vegan chocolate, healthy chocolate fudge, healthy fudge recipe, superfood chocolate recipe, Raw Chocolate Recipe. Learn how to make Healthy raw Chocolate Recipe, paleo chocolate recipe, or how to make vegan chocolate fudge. Learn how to make healthy chocolate fudge recipe and healthy dark chocolate recipes.