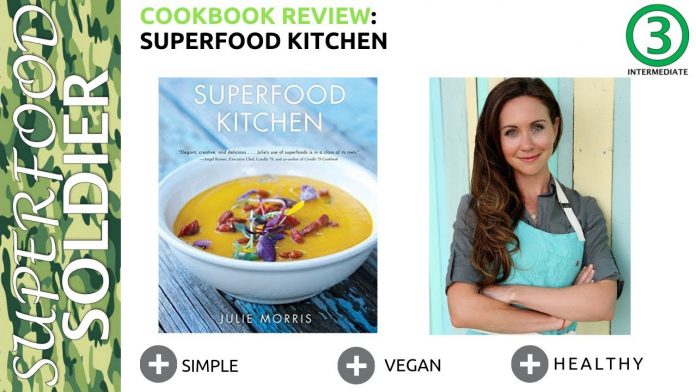 Overall: 7.5/10
A solid beginner's guide to superfoods and the basic recipes, Julie Morris's Superfood Kitchen makes it easier to put nutrient dense superfoods into your diet. All recipes are vegan friendly classics in which superfoods have been added to increase health benefits such as: Immunity, anti-aging, bone strength, lower blood sugar, and more. She hits her objective, but this is not an all encompassing bible for superfoods as additional resources are needed.
Positives:
+ Recipes are easy to make for vegan beginners
++ Clearly states additional health benefits that each smoothie provides
+++ Good variety of dishes for a truly healthier meal plan
Negatives:
– Initial investment is over $100 to build up your Superfood Pantry. Superfoods do last longer than normal foods however.
– Recipes may be straightforward, but a beginner/novice will need to buy a lot of extra ingredients
– – Additional Resources at the back is limited
Superfood Smoothies by Julie Morris
Acai Powder: Top 15 Superfood by Julie that I frequently use
Supergreens Powder: All around healthy superfoods powder
Cacao Powder: For chocolate taste and healthy benefits
Goji Berries: Sweeter taste with antioxidants
DISCLAIMER: This video and description contains affiliate links, which means that if you click on one of the product links, it's possible that I will receive a small commission. This help support the channel and allows me to continue to make videos like this. Thank you for the support!